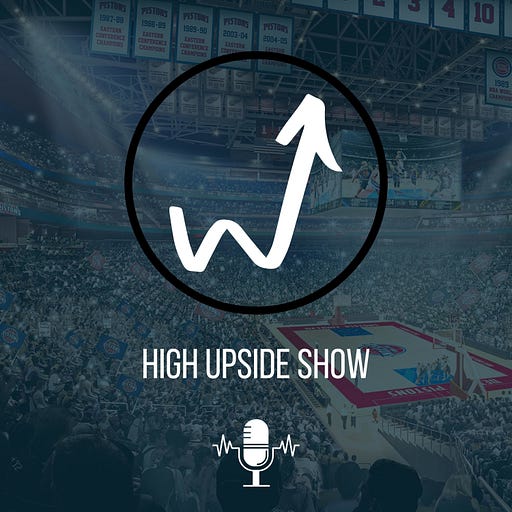 Oct 17, 2019 • 18M
Ep. 2: Optic Is Up Next!
You ever watch Mad Money? What about Fast Money? This shows is kind of like that... But instead of the boring stock market, we'll be talking about basketball cards. Every week I'll be documenting my investment strategy. You'll get a deep dive into who I'm buying and how the market is trending. We're all trying to make money... I'm just trying to make it fun. Support this podcast:
This installment of the High Upside Show is free for everyone. If you would receive an email like this every morning, as well as gain access to my investment journal then check out the premium newsletter today!

---
If you listen to any podcast or read any blog what is the most talked-about set when it comes to basketball cards? If you said Prizm, then you've been doing your homework.
And rightfully so, right? Prizm was the first set to really take off for Panini. It attracted investors, collectors and it replicated a set (Topps Chrome) that many people thought was canceled.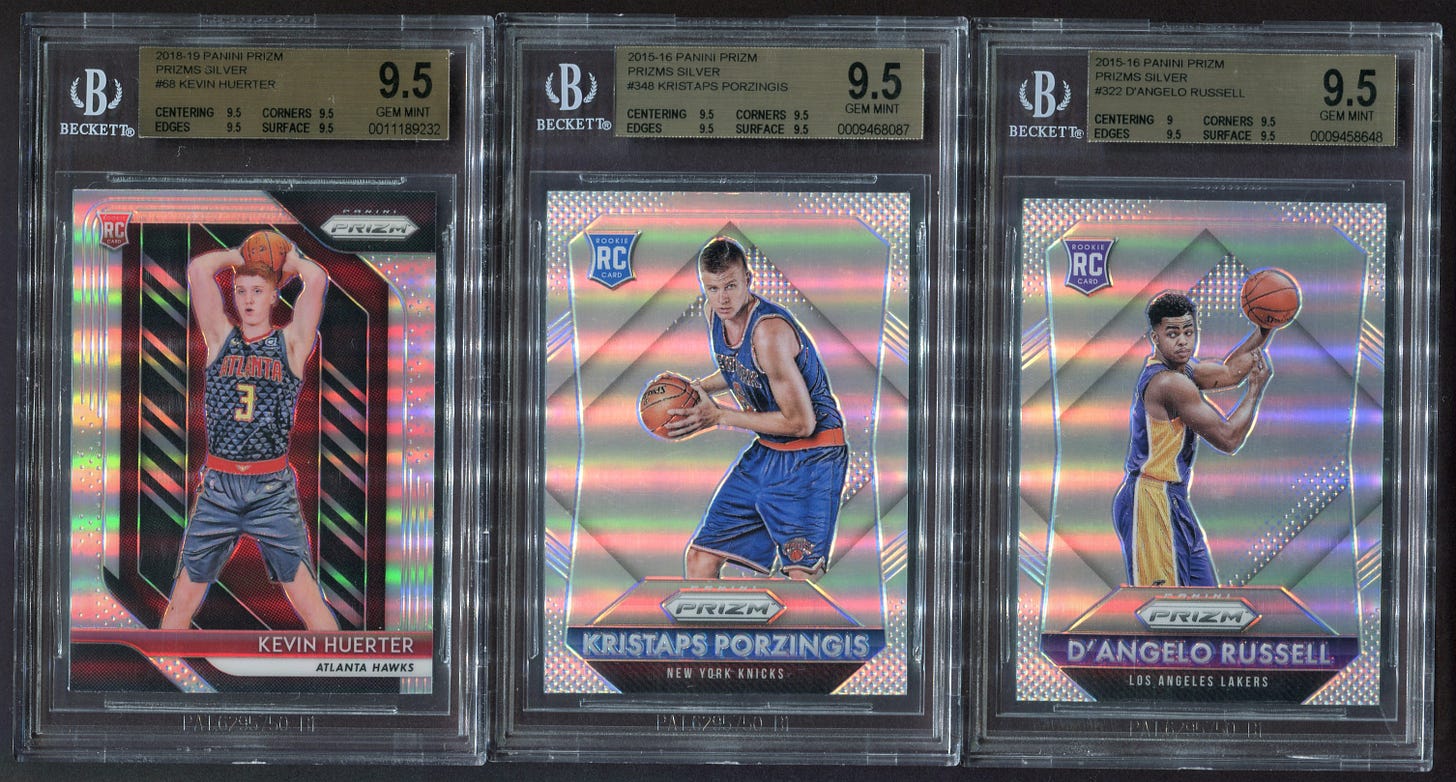 Want a PSA 10 Topps Chrome Refractor LeBron rookie card? Well, there are only 168 of those. Not too far from his Exquisite which is #'d to /99 and quite a lower supply than his Ultimate Auto RC, as 250 were produced.
The same goes for a Kyrie Prizm Prizms (Silver) PSA 10, you want one of those, good luck, 19 are available and chances are the majority of them are locked up. If you look at the Prizms graded by BGS you'll see there are only 116 that are graded a 9.5 and above, bringing the total supply of gem mint Prizms to 135… Again, extremely rare.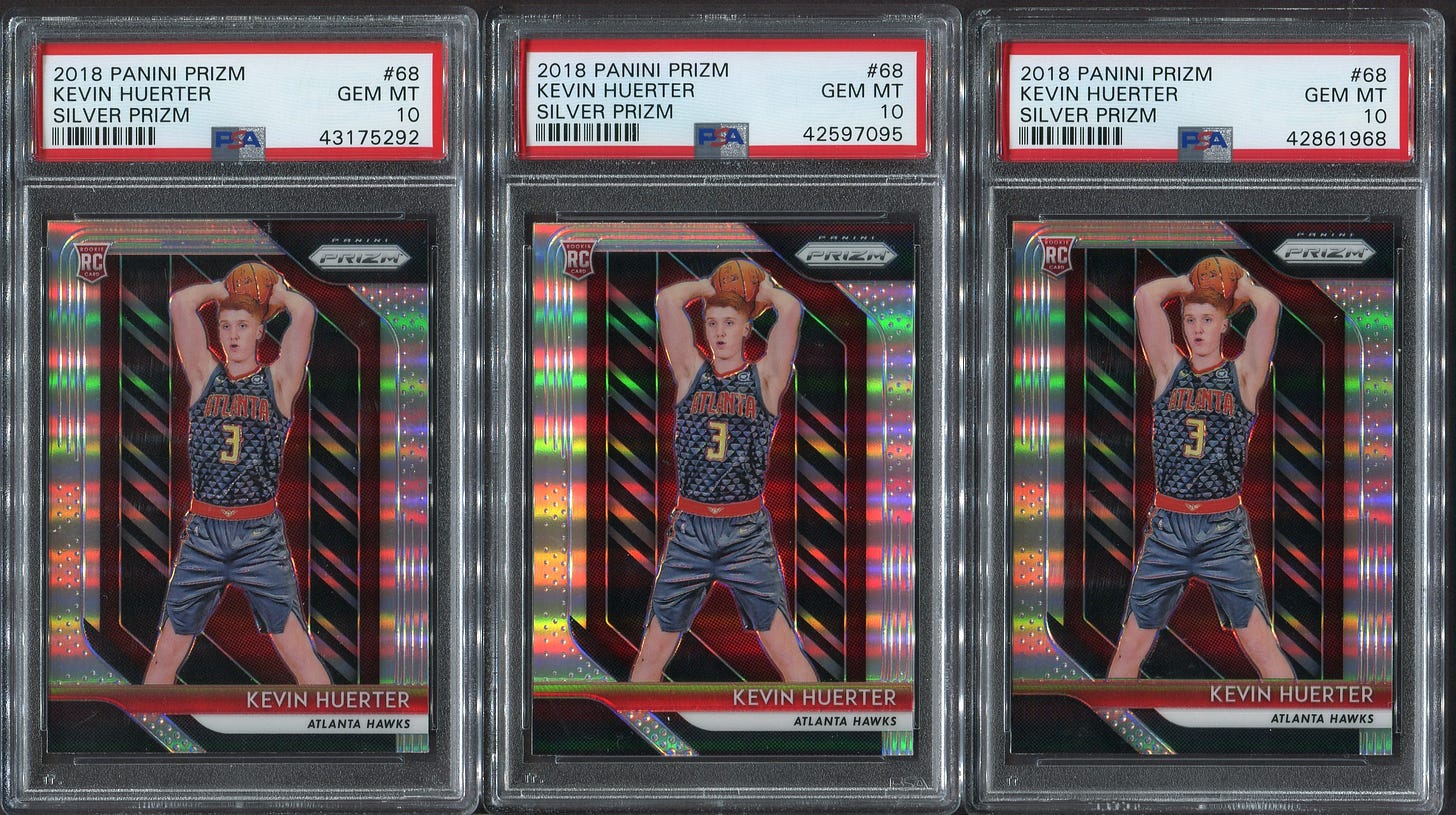 The rarity of Prizm, along with the chrome-like finish pushed this set to the top. It had all the makings of an iconic set and since then we've never doubted it. As a collector, this is fine, we buy what's iconic, legacy matters and we tend to support it no matter what. I mean let's take cards out of the equation and let's look at sports as a whole. We cater to the Knicks, the Cowboys, the Lakers all because we're loyal fans.
But sports cards are no longer a collector's only hobby, many people look at it as an open market and when that happens things like loyalty become less important.
Bulls and bears make the money while the pigs get slaughtered. That's the difference between professionals and amateurs, pros look for what's wrong with the system, while amateurs assume that it's right and go along with it.
Paying top dollars for these cards makes sense, hell, if the players from this set go on to have a hall of fame type career, then we may look back at these prices and ask ourselves… why didn't I buy more?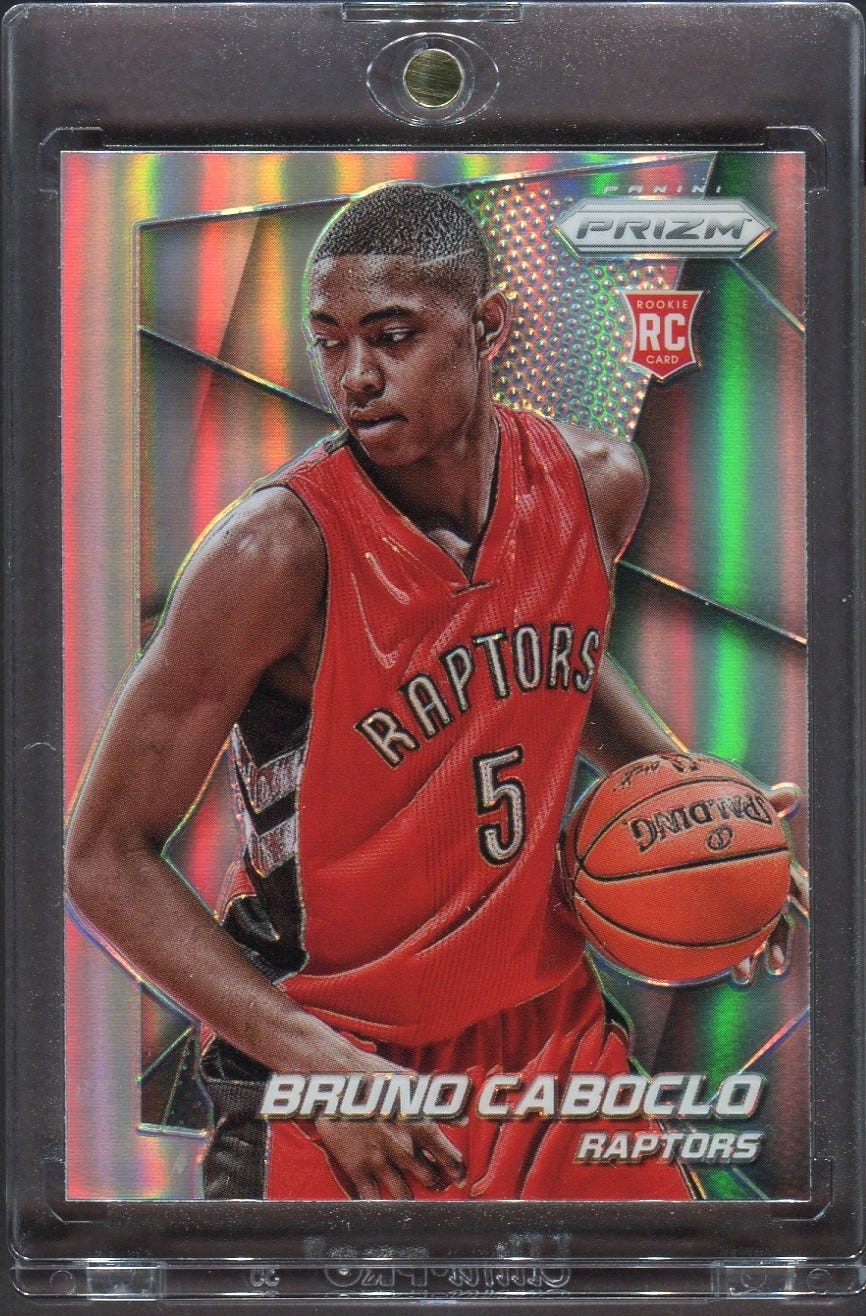 Some of you may have already had that conversation with yourself. Which is why Prizm Silver cards released in later years are so highly sought after. You didn't want to miss the boat as an investor and as a collector, well, you want to get your player while he's cheap, so you buy-in as well.
The problem is, we stopped paying attention to the circulation and we fell in love with the set. This is what makes the card market more dangerous than say, the stock market… We tend to get emotional, attached and even though we're in it to make money we move with collector habits. We want the shiny card, the one that people on the forums will respect. Money becomes secondary as clout becomes our main priority.
This is where smart money moves in. While everyone is comfortable we notice a change in the market. The supply of Prizm Silvers has increased drastically, at the time of writing this, there are 1,162 Silver Luka's that has been graded a PSA 10. That means Luka has more graded PSA 10 Silver rookie cards then the entire rookie class from 2012–13.
If you want to take it a step further, you'll see that there are more graded base RC of Luka (7,000+) then the entire 2012–13 Prizm Basketball set. As you can see below there are 5,678 graded cards from 2012-13 Prizm. It really shows you how massed produce this year's Prizm was

So what does smart money do? They study the market. If you've seen a previous blog post of mine, I talked about how Prizm Purple would be the next big parallel. I still believe that, as the card is extremely limited, but as over the last few months I've had more time to study the market and I've found another set that might be even bigger, at least in terms of ROI.
That set is Donruss Optic Holo. If you've been in this game for a while then Optic is no stranger to you, in fact, people have been pushing it as the next Prizm Silver for quite some time, so much, that you tend to just brush it off and say whatever… That's until you look at the numbers.
Donruss Optic is extremely limited, at least when it comes to graded Holos. Luke only has 86 PSA 10 graded rookies, Shai Gilgeous-Alexander only has 10! Not into modern rookies, no problem, let's take a look back at 2016–17, Ben Simmons only has 128 PSA 10 rookies.

Now people will argue that Optic isn't graded as much, the cards aren't really as rare as they appear. For a moment I sided with that argument, but then I look at a player like Ben Simmons and call bull shit. He was rookie of the year and he dominated, his team played in the Eastern Conference Finals and he just hit a three-pointer in the preseason, if there was ever a time to submit your cards to be graded, that time would have been then. This means that there just out many more out there, at least in gem mint condition.
The numbers are the numbers and year after year the numbers say that Optic is rare. Just as rare as Prizm Silver and 10x as rare as Prizm Silver today!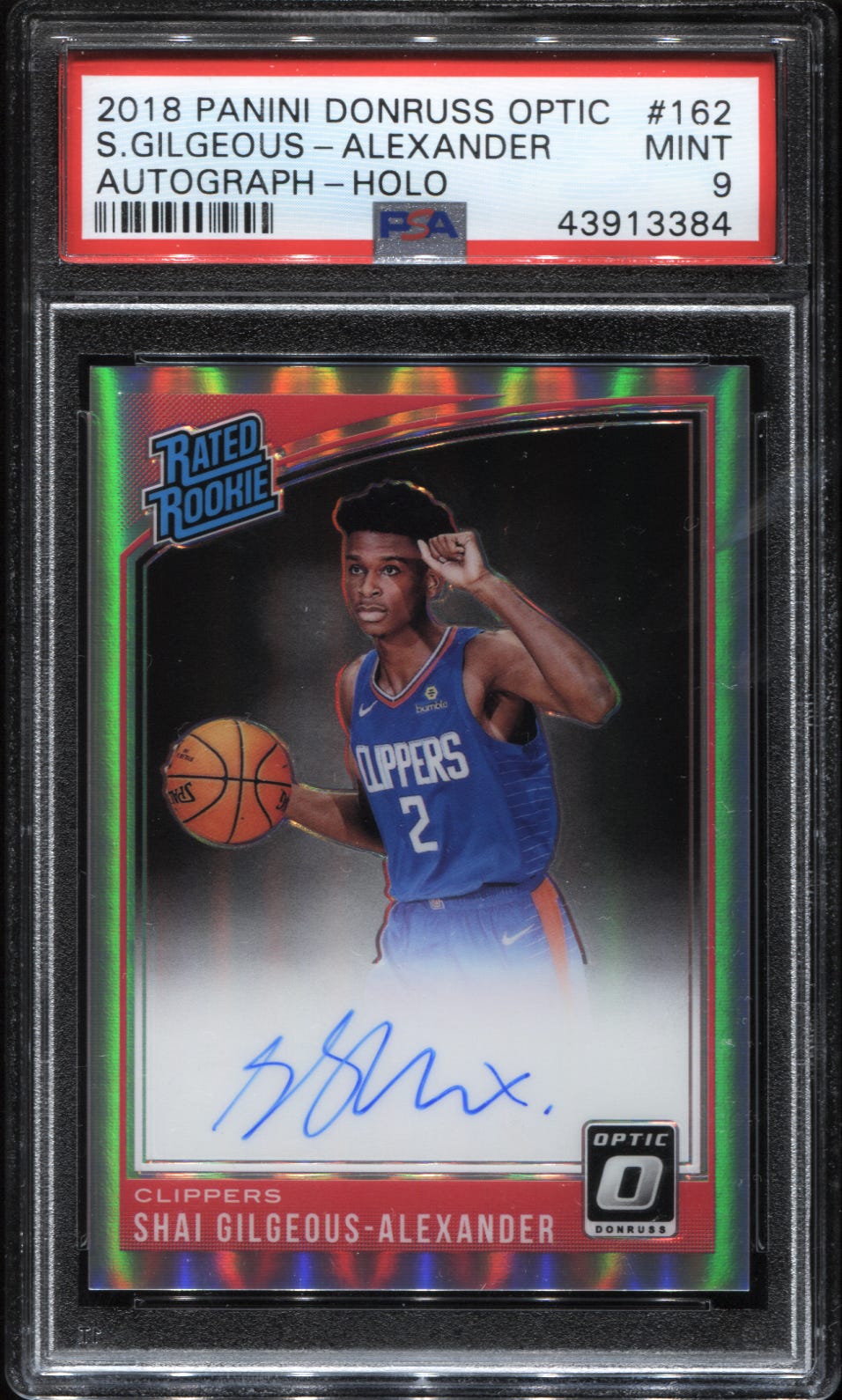 Want to know another fun fact, Optic just looks better. Okay, I know that's not a fact and it's just my opinion, but I'm willing to bet if you had an Optic Holo in person you'd pick it over the Prizm Silver any day. Especially base cards (non-rookies) and rookie autos… It's just night and day.
So lets put this all together and see what we have.
Optic is a great looking set, it's to the point where I'm not even sure if the design is legal (it resembles Topps Chrome so much). The set is also rare, you open a box of Optic and you're not going to come out with a stack full of Holos. This leads to a smaller circulation of gem-mint cards. See LeBron or Giannis, they've skyrocketed.
That leads to my last point, we have a market maker. It only takes one card to blow the entire set up. LeBron collectors are paying top dollar for the card, it's just a matter of time before we see that trickle down to other players.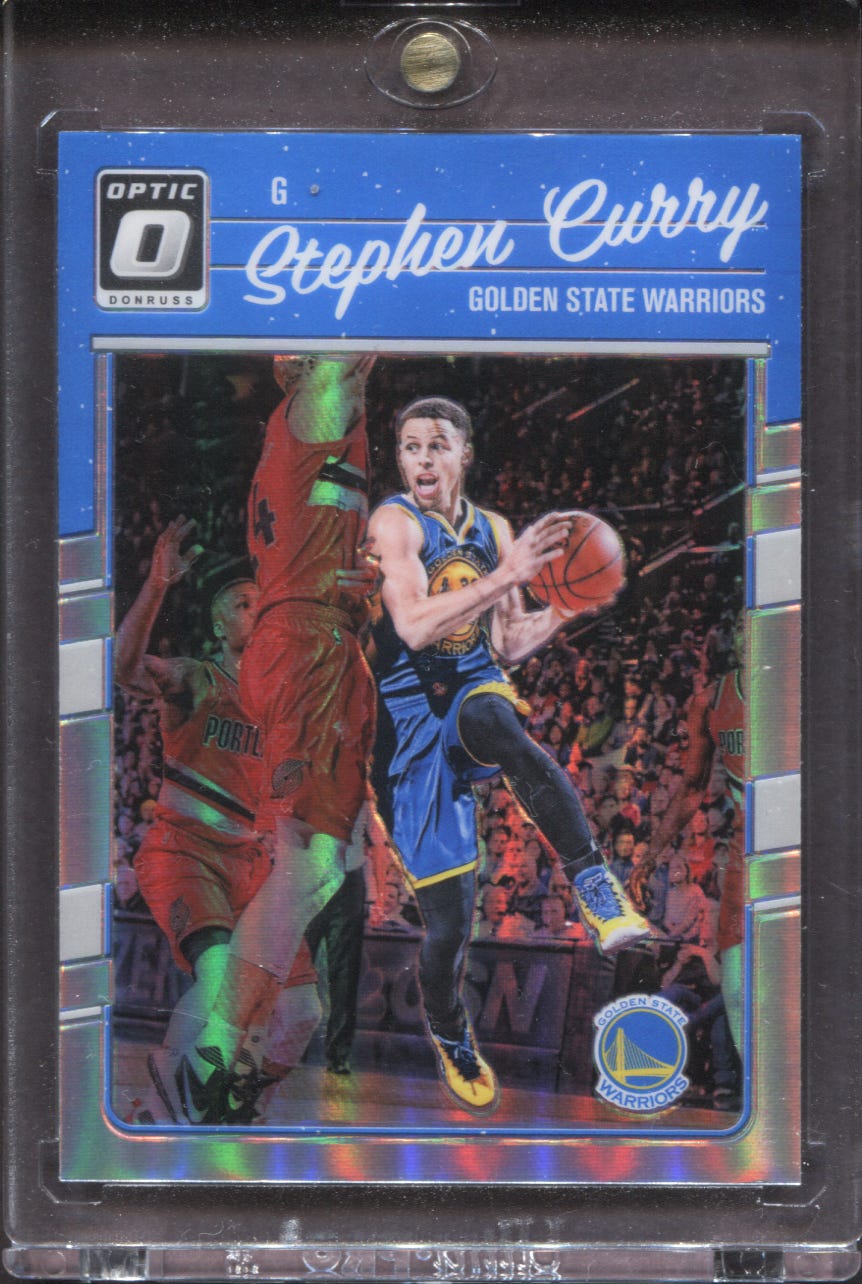 I'd go as far as saying we're already seeing this happen. A Luka PSA 10 Holo now commands $300, this was a $75–100 card a few weeks back. The same can be said about Trae Young, he's easily pulling in $125–150.
Lately, I've been seeing BINs on Jayson Tatum and Donovan Mitchell go for about $50, which on paper seems cheap, but it's actually close to a 1.5–2x compared to the market a month ago. In my opinion, it's just a matter of time before those are pushing close to $200.
Last but not least I'd like everyone to take a look at Patrick Mahomes. I don't typically talk about football, but Mahomes is the only superstar with an Optic RC. His numbers show that these cards have a lot of potentials when you play at a high level. A PSA 10 Holo goes for $450 and that's for the "ugly set". What type of potential does Luka have as the 2018–19 set is far more popular when design is in mind and let's not forget Tatum, you can get a PSA 10 Holo for $50 right now if he's Durant JR are you looking at a 9x return?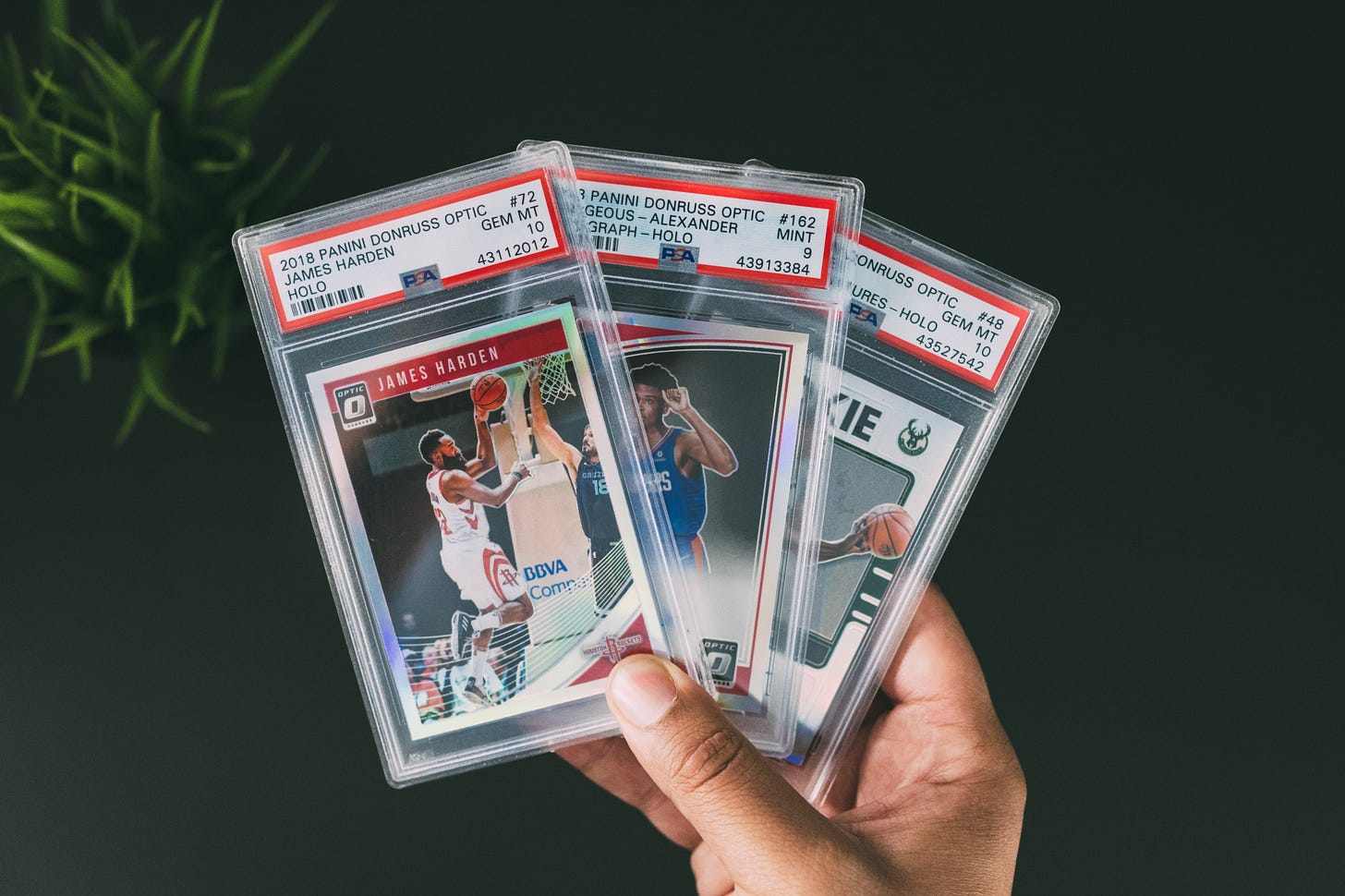 I'm not sure if Optic will ever beat out Prizm in terms of popularity, but I do see a world where they both can survive. Remember, we used to have Topps Chrome and Bowman Chrome, we also used to have Topps Chrome and Finest. Prizm may always be the go-to for collectors and box breakers but in terms of the current ROI… Donruss Optic is the obvious choice. Let me know what you guys think… are you buying Optic Holos of your favorite guy or are you still on the Prizm Silver train? If you're going the Optic route, then let me do you a favor, I've gone ahead and filtered out all the BS you see when you search Optic Holo on eBay, this means you won't see the Shock cards that no one wants, you won't see the Fast Break set and you won't be bombarded with inserts. I also organized them, so if you're looking for PSA you only see PSA, if you're looking for autos you only see autos… You guys get the point. Happy investing!
---
If you want to keep track of what I'm buying and when I'm selling then follow me on Twitter @HighUpsideShow also, check out the podcast, I need everyone's support to help get it noticed!
Disclaimer:
The High Upside Show does not guarantee the accuracy, reliability, or completeness of any information provided on our website or any of our affiliated pages. All information provided is for educational purposes only. The High Upside Show goal isn't to tell you how to spend your money but to simply show you different options within the sports card market.
You are responsible for your own investment decisions. The High Upside Show will not be responsible for any decisions you make, as we highly suggest that you do your own research before making any commitments. If you ignore our advice to do your own research and you chose to buy/sell solely off the information that you see on our site, then you have made a conscious, willing, free, and personal decision to do so.
The High Upside Show is an EPN affiliate program. By clicking eBay links in articles, as well as the newsletter, you acknowledge that The High Upside Show receives a commission on sales from eBay.