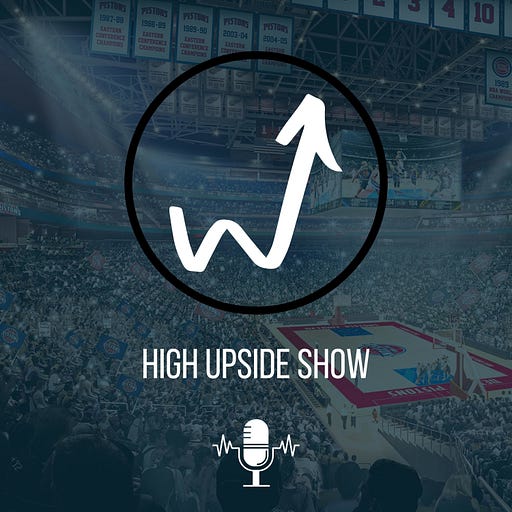 Apr 20, 2020 • 14M
The Best Sports Card Under $50 RIGHT NOW!
You ever watch Mad Money? What about Fast Money? This shows is kind of like that... But instead of the boring stock market, we'll be talking about basketball cards. Every week I'll be documenting my investment strategy. You'll get a deep dive into who I'm buying and how the market is trending. We're all trying to make money... I'm just trying to make it fun. Support this podcast:
This installment of the High Upside Show is free for everyone. I send this email to our investors/collectors daily. If you would also like to receive it every morning, join the other investors today!
---
Hey guys, this week we have a special episode! I'm giving you guys the play, this is the best buy right now in the market for $50. I know a lot of you are going to roll your eyes at this one, but listen to what I'm saying… It makes sense!
Think you have a better buy? Share it with the community, but make sure you tell us why… The community needs insight.
Also, how many of you are familiar with the Sports Card Investor's Market Mover Tool? Well, he's offering 20% off to my audience. All you have to do is use the promo code HUS20 during checkout!
I use this tool to help create the content for this podcast, with just a simple search I was able to see that Ben Simmons Optic PSA 10 were trending upwards, but were still trading below players like Jayson Tatum.
What I love most about the platform is the charting system, it makes it so much easier to find steals, deals, and trends… Try it out and let me know what you think!
Save 20% using the promo code HUS20 during checkout! Happy investing!
---
If you want to keep track of what I'm buying and when I'm selling then follow me on Twitter @HighUpsideShow also, check out the podcast, I need everyone's support to help get it noticed!