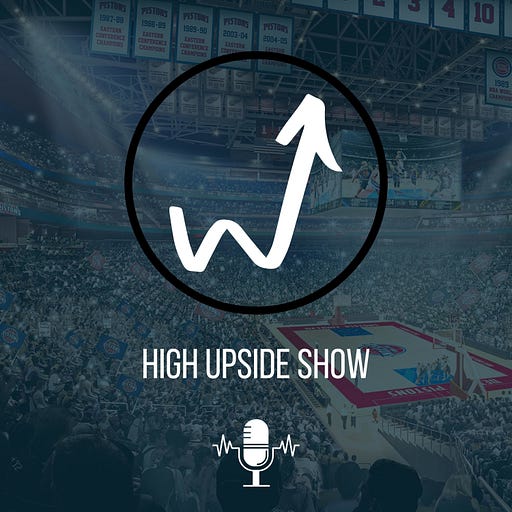 Feb 17, 2020 • 17M
Ep. 6: Who I'm Buying - My 2020 Playoff Investing Strategy
You ever watch Mad Money? What about Fast Money? This shows is kind of like that... But instead of the boring stock market, we'll be talking about basketball cards. Every week I'll be documenting my investment strategy. You'll get a deep dive into who I'm buying and how the market is trending. We're all trying to make money... I'm just trying to make it fun. Support this podcast:
This installment of the High Upside Show is free for everyone. If you would receive an email like this every morning, as well as gain access to my investment journal then check out the premium newsletter today!

---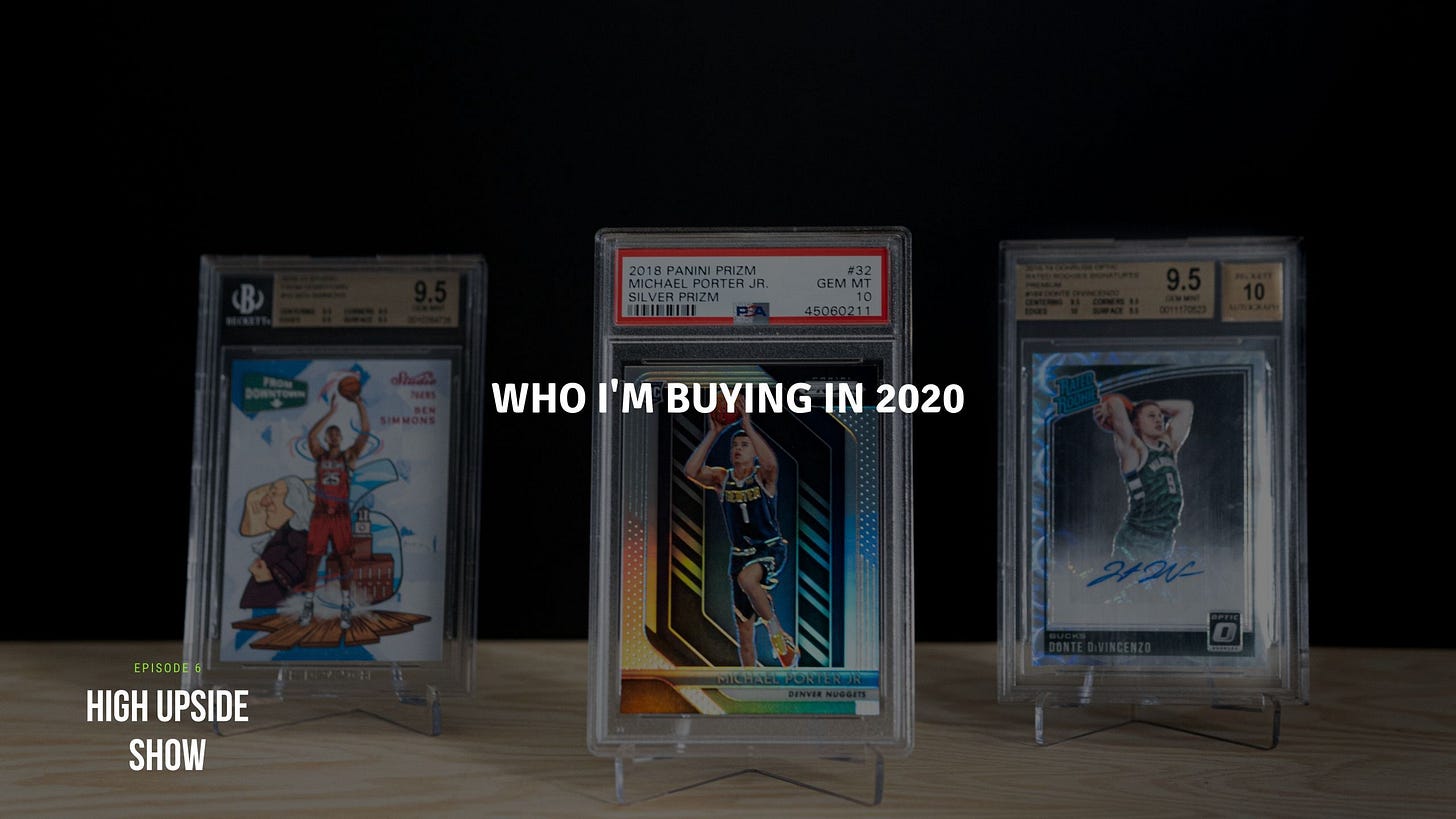 It's been a not so busy 2020 for me. I've bought little to no cards and a lot of that is due to the fact that I absolutely hate this draft class. It also might be the number of new investors we have in this space. The hobby is very similar to the NBA back in 2016. There's so much money going around that role players are commanding top dollar, it's really hard to find a place to put my money.
I figured some of you were having that issue as well… So I made this blog post, you know to save you from putting big money into players like Brandon Clarke.
So yeah, here it is… My buying strategy for 2020. I hope you all enjoy it!
Oh, by the way, if you haven't checked out the High Upside Show Podcast yet then do me a favor and listen to the latest episode. I give you a detailed explanation as to why I picked the guys below!
Donte DiVincenzo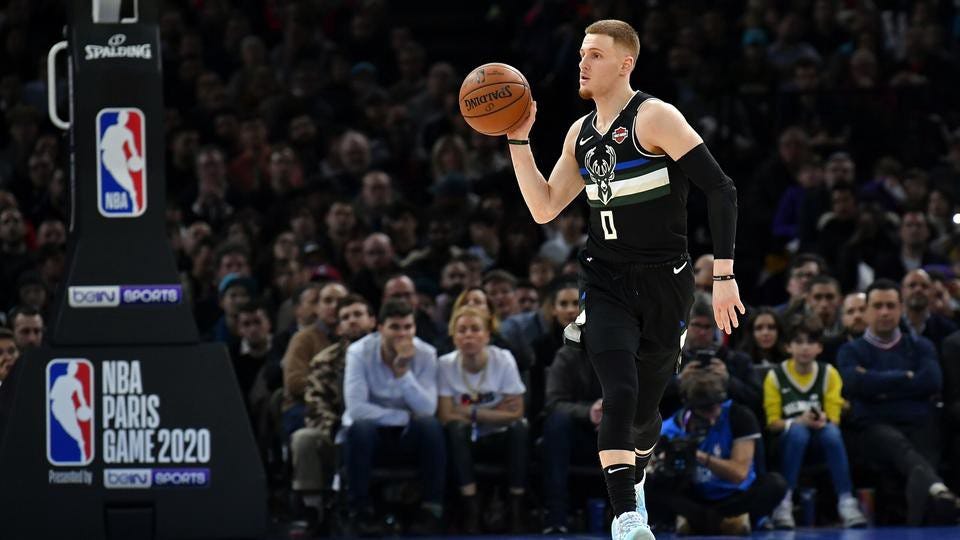 Starting the list off here with a sleeper pick. The Milwaukee Bucks are one of the top teams in the NBA and are the frontrunners to come out of the East. In order to do this, they are going to have to score the ball and if last year taught us anything then we know it can't just be on Giannis.
This year DiVincenzo has stepped up in a huge way, he's definitely solidified himself as their main scorer off the bench, in fact, many people are considering him the X-Factor for the Bucks squad.
What makes him so dynamic though is that he just isn't a scorer, he's a solid defender, decent pass and a great rebounder for his size! Khris Middleton is without a doubt Giannis Robin, but don't be surprised if DiVincenzo acts as his sidekick at times, as he knows what it takes to take over a big game.
What cards am I buying of DiVincenzo? Well, the list is simple, we'll talk about why in another blog post!
2018–19 Prizm Prizms Silver PSA 10
2018–19 Immaculate Collection Rookie Patch Autograph /99
2018–19 Donruss Optic Holo
Paul George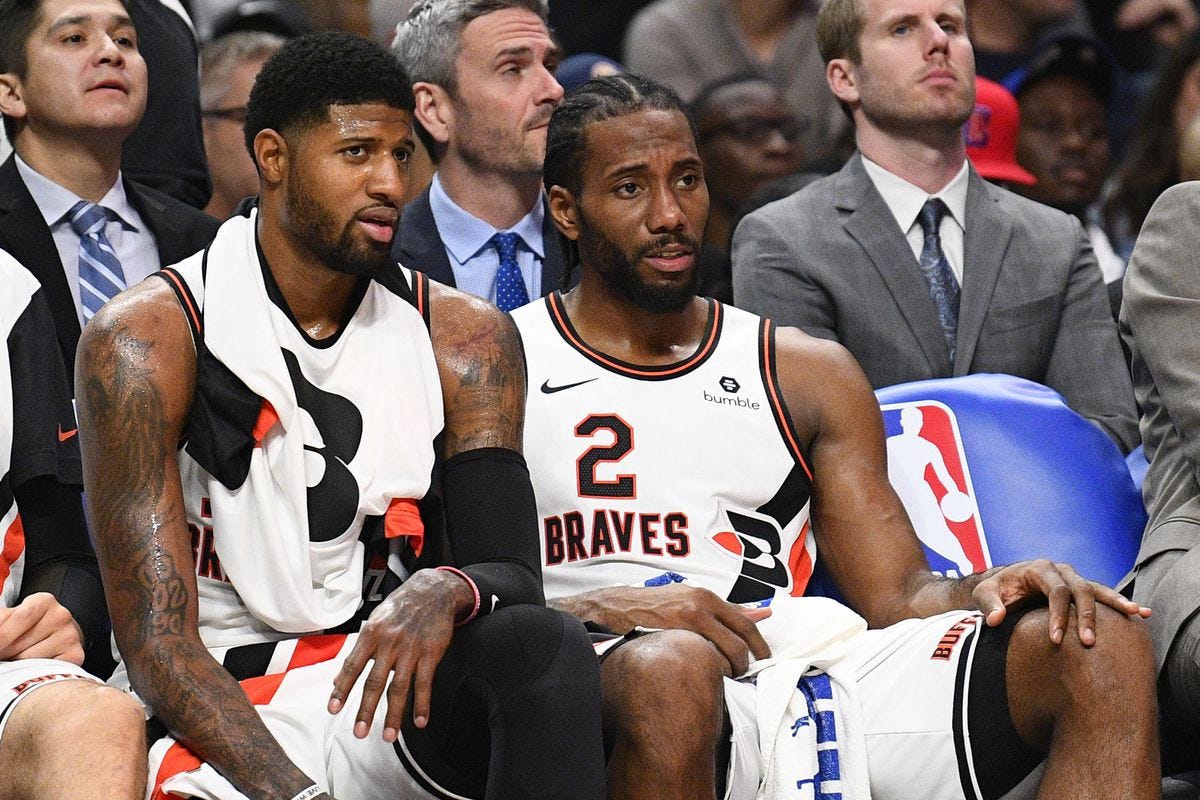 People are sleeping on the Clippers. Well, not really, but its safe to say the hype isn't the same as it was earlier in the season. Both Paul George and Kawhi's prices have tanked and it's probably due to the fact that they both just sit on the bench?
Paul George has already missed over 20 games, but that still hasn't stopped him from showing signs of greatness. Remember his first few games back? That's what I expect in the playoffs from him every night…
Playoff P is nothing to play with! I'm going to go out on a limb and say that George will be more important then Kawhi during the Clippers playoff run, at least offensively. He's just so talented, he can do it all and unlike Kawhi, he does it with flair… The hobby eats that kind of stuff up.
What makes him such a buy though just isn't his talent, but his prices are just so cheap. Paul George doesn't have any of the cards we know today (outside of National Treasures)so if you want to purchase one of his cards you'll likely have to buy into a set you've probably never heard of before. This sucks, but again, it's the reason why his prices are so cheap. Many people have discovered his cards, but once they do, I'm pretty sure the demand will increase.
So what Paul George cards am I buying before his big playoff push?
2010–11 Donruss Classics Rookie Autograph /449 BGS 9.5
2010–11 Panini Gold Standard Rookie Autograph /349 BGS 9.5
Nikola Jockic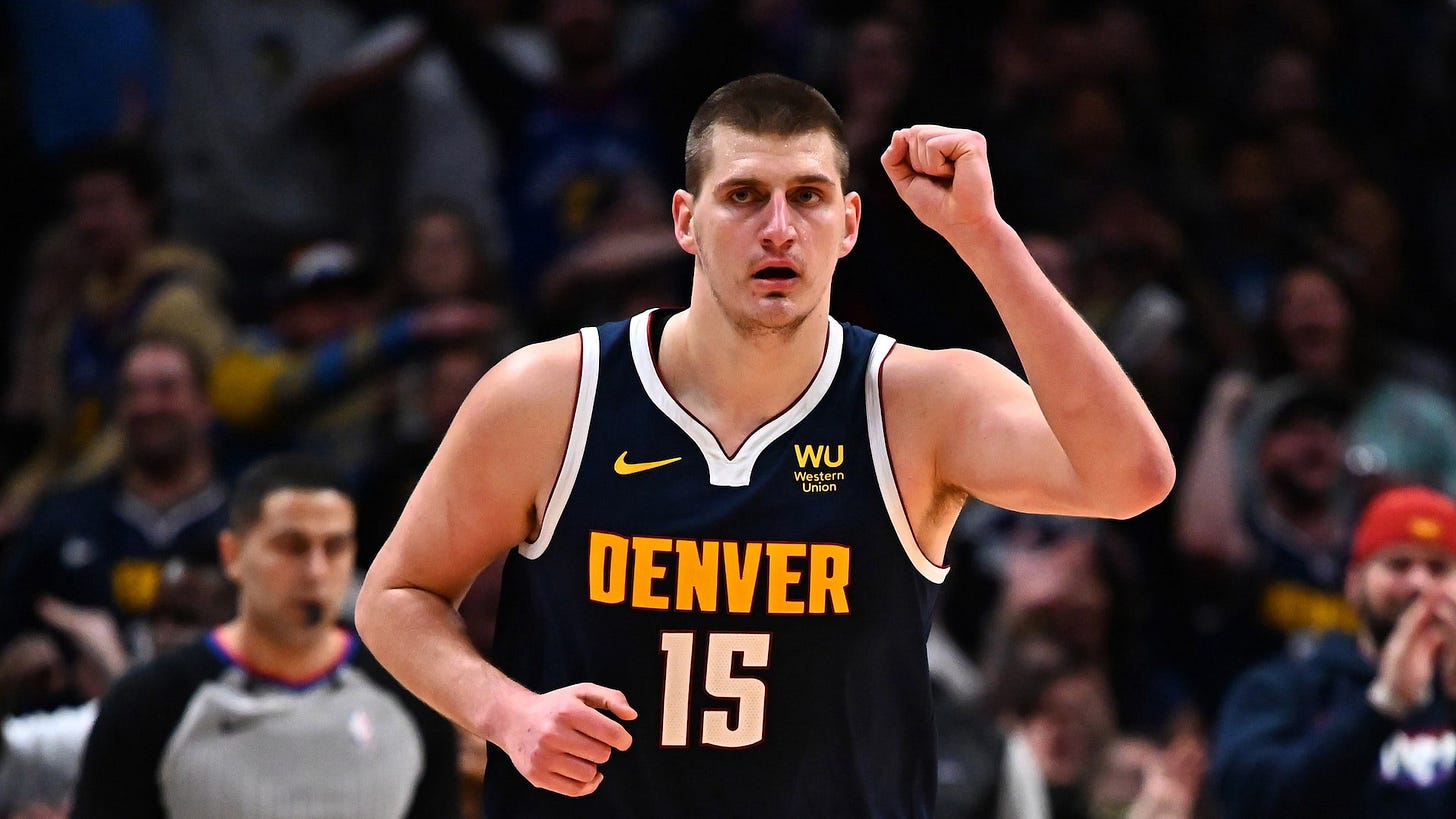 Centers don't sell well… That's the stigma in today's hobby and for the most part, it's true. Last year we saw Joel Embiid have one and prior to that we saw players like Dwight Howard, DeMarcus Cousins, and Myles Teller all have big years in the hobby. The run, however, doesn't seem to last that long. It's like they have one season, maybe two, and then they fizzle out.
I think Jokic is going to be different, at least during playoff times. He's just such a dynamic player, he's slow and sluggish, yet entertaining! It's really a weird package. Offensively he reminds me of Dirk, his jump shot isn't as good and his fadeaway isn't going to be as iconic, but he's not far off.
People may say I'm crazy about that comparison, but when you compare their playoff numbers… they're pretty similar.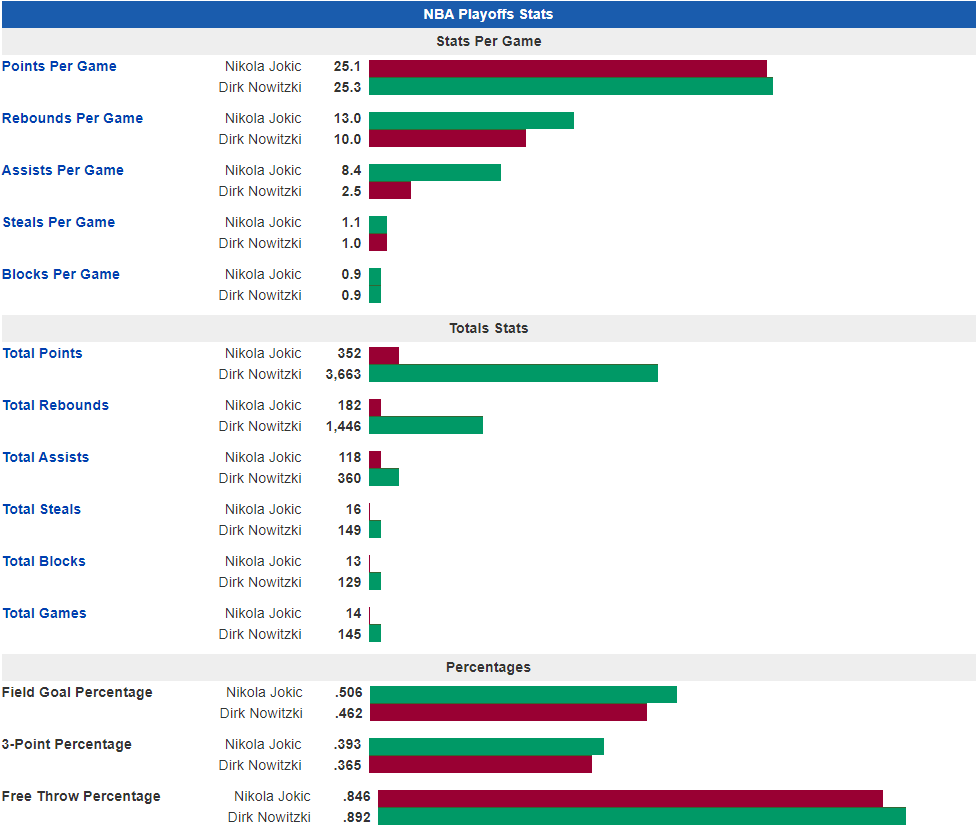 The awesome thing about Jokic is that he's dumb young. I think sometimes we forget how young all of these players are. He's 25! And this is only going to be his second playoff appearance, you don't think he's going to be more prepared this time around? I mean outside of that his team is also more experienced, they've solidified themselves as a top contender in the West and now they know it just wasn't luck.
So what cards of Jokic am I buying? For him, I'm going for more of a budget route. I think some of his #'d Prizm parallels are undervalued right now, along with his graded base Prizm cards. Everything else seems to be fair value.
I currently don't own any cards of Jokic, he's actually the only player that I haven't bought into yet, but if you have the funds I recommend the ones below.
2015–16 Panini Prizm PSA 9
2015–16 Panini Prizm Blue /199
2015–16 Panini Prizm PSA 10
Michael Porter JR.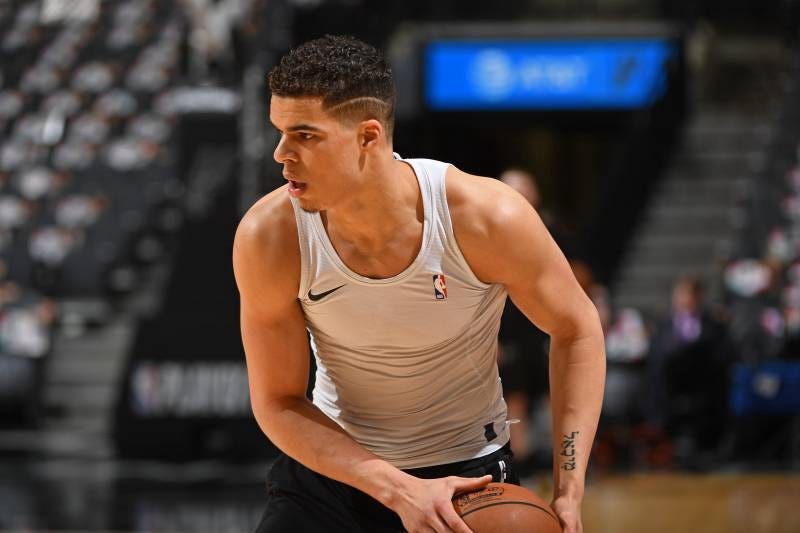 Everything I said about Jokic, apply it here. Michael Porter Jr. has a different set of skills offensively (and none defensively) than his teammate but they compliment each other so well.
Think about it, Jokic in the post, he's holding the ball for 6 seconds like he always does and all Michael Porter Jr. has to do is move. His options are unlimited, he can cut to the rim for the easy finish + the foul, or just move around and get open for the 3… and if none of that works, he can just pull-up and shoot it, the kid is 6–10!
Where do I see Porter Jr. during the playoffs? Averaging 20PPG and 11RPG! That's currently what he's averaging per 36 minutes and I'm hoping he'll get that kind of court time during the playoffs. If that happens, I see him being the 2nd best player on that team, in fact, I think we'll start to see glimpses of it during the 2nd half of the season!
What cards am I buying of MPJ? Well I already own quite a bit, but I'm still stocking up on the following ones below
2018–19 Optic Holo PSA 10
2018–19 Prizm Silver PSA 10
2018–19 Impeccable Rookie Patch Auto /99
2018–19 Optic Holo
Ben Simmons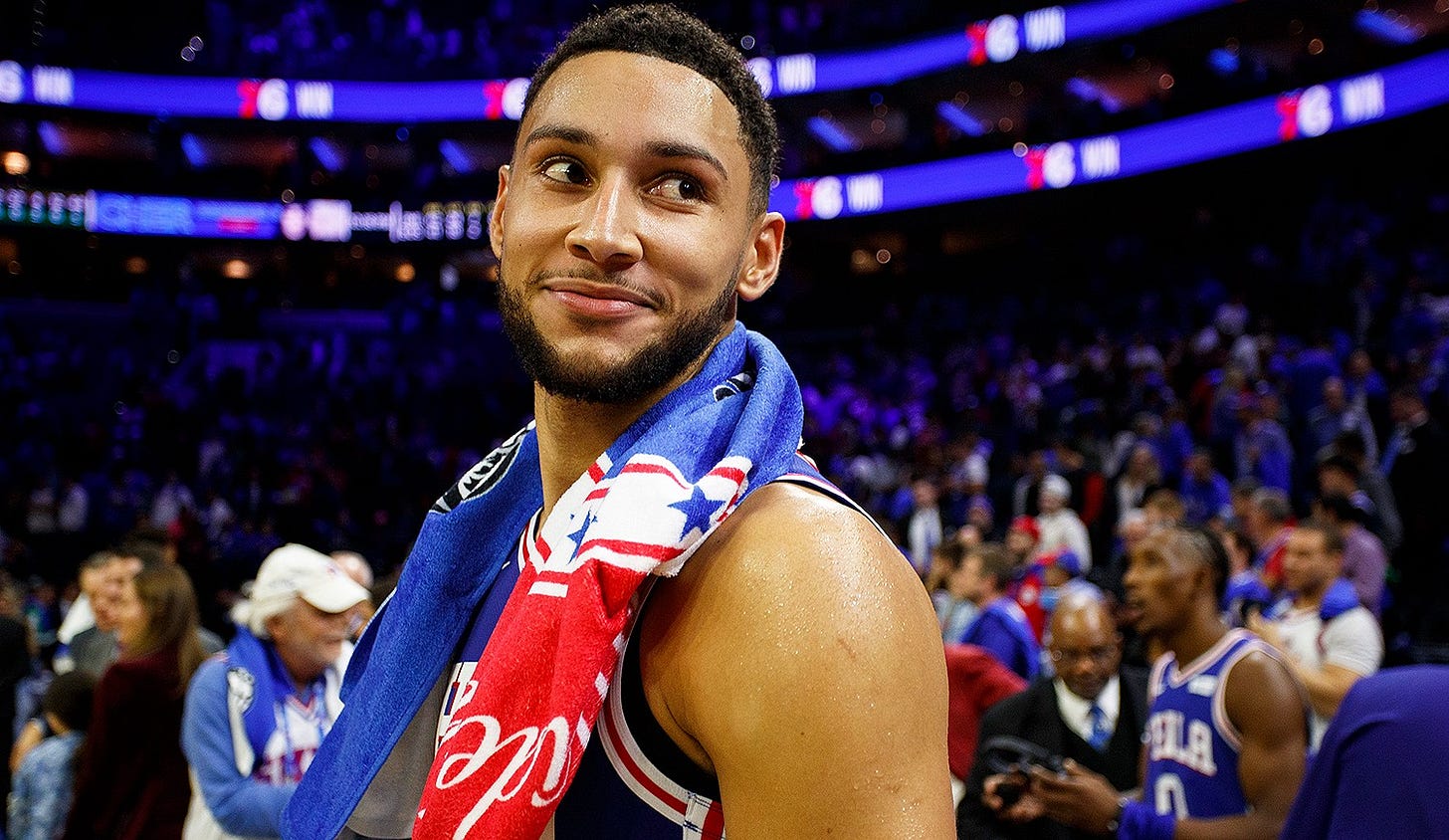 Ben Simmons is better without Embiid… but he's forced to play with him for now. I've owned this man's cards since the beginning of the year and the first month or two into basketball I was ready to throw them into the trash… But then Embiid went down and man, Simmons STEPPED IT UP!
I don't know what changed in his diet or if he got his 2nd wind or, yeah, I don't know, but he just started to take over games. Check out his stats month by month;
November: 14 Games | 11.9 PPG | 8.5 AST | 7.4 REB
December: 16 Games | 16.2 PPG | 8.7 AST | 7.4 REB
January: 13 Games | 22.2 PPG | 8.7 AST | 7.4 REB
What month did Embiid go down? If you guessed January, you guessed right! I think his ability to score at a high level without shooting 3's has silenced a lot of critics, including Embiid. It's safe to say that Simmons can be the go-to guy on that team and that the Sixers may even see him as that… Once we get Embiid to understand then we will see him take off. Personally, I see Simmons taking the same leap Giannis did, that's why he's my #1 pick for 2020.
What cards of Simmons am I buying? Well, his one of the most expensive guys on this list (outside of Jokic) so I decided to keep it simple and stick with some fan favorites.
2016–17 Panini Prizm Silver BGS 9.5
2016–17 Panini Prizm PSA 10
2016–17 Donruss Optic Holo PSA 10
---
If you want to keep track of what I'm buying and when I'm selling then follow me on Twitter @HighUpsideShow also, check out the podcast, I need everyone's support to help get it noticed!
Disclaimer:
The High Upside Show does not guarantee the accuracy, reliability, or completeness of any information provided on our website or any of our affiliated pages. All information provided is for educational purposes only. The High Upside Show goal isn't to tell you how to spend your money but to simply show you different options within the sports card market.
You are responsible for your own investment decisions. The High Upside Show will not be responsible for any decisions you make, as we highly suggest that you do your own research before making any commitments. If you ignore our advice to do your own research and you chose to buy/sell solely off the information that you see on our site, then you have made a conscious, willing, free, and personal decision to do so.
The High Upside Show is an EPN affiliate program. By clicking eBay links in articles, as well as the newsletter, you acknowledge that The High Upside Show receives a commission on sales from eBay.