What #'d Sports Cards You Should Be Buying
This installment of the High Upside Show is free for everyone. If you would receive an email like this every morning, as well as gain access to my investment journal then check out the premium newsletter today!

---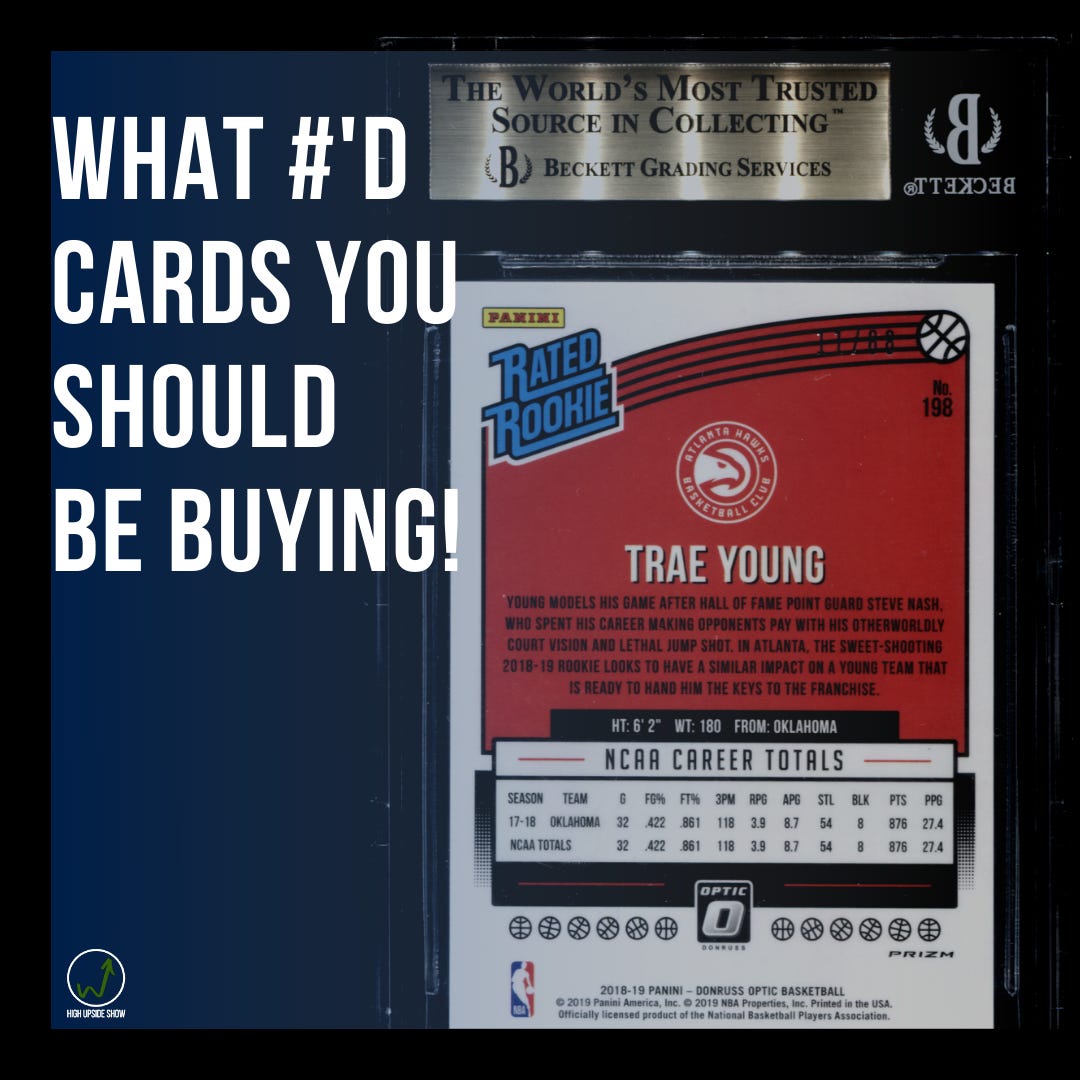 How many of you listen to my podcast? I hope you raised your hand!
If you don't, shame on you, SHAME ON YOU! To those who do, well, you've probably heard me talk about how the market is saturated with Prizm cards and how the price is moving up at a rapid pace simply because that's all investors know. It reminds me of Bitcoin in a way, investors know Bitcoin, so they put money in Bitcoin. They didn't care about the speed or the technology, they just hear Bitcoin on the news so they buy. The same can be said about Netscape back in the day or Apple when talking about mobile devices today. Now, this isn't bad, meaning you can still make money, I mean Apple is huge right? I'm by no means telling you not to buy Prizm, but if you're a long term investor then you might want to hedge your bets or at least see what that looks like.
If you invest in a guy it's safe to say you're going to buy a number of his cards. Let's say 5 Prizm PSA 10, that's your goal. Short term, this might be a smart play, Prizm has all the momentum and it's the go-to set for modern player's rookie cards right now. If you would have done this with Jayson Tatum at the beginning of the year you would be in a pretty good position right now. But there is a chance this might change in the future.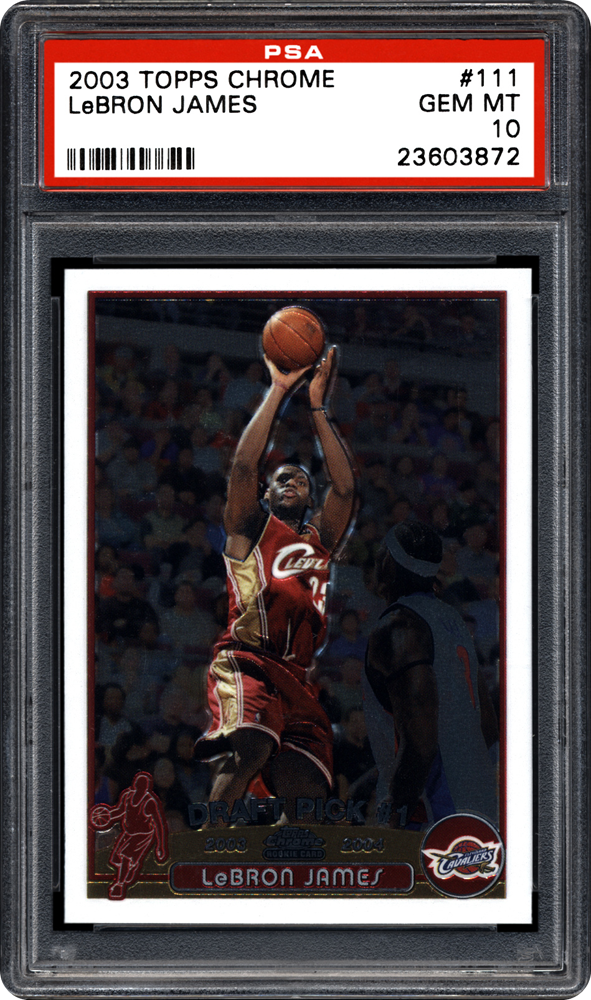 For example, everyone looks at LeBron's cards and they tell themselves that the Topps Chrome PSA 10 is his go-to rookie. That's the popular card and that's what modern investors know, but what if I told you that it wasn't his most expensive rookie? In fact, it's not even close. Here's how LeBron's rookies rank in terms of price.
Exquisite Collection /99 - $750,000?
Ultimate Collection /250 (PSA 10) - $63,000
SP Authentic /500 (PSA 10) - $35,000
SPx /750 - $?
Topps Chrome (PSA 10) - $6,000
Topps Finest /999 (PSA 10) - $2,500
UD Glass /250 (PSA 10) - $2,500
Bowman Chrome (PSA 10) - $2,000
Topps (PSA 10) - $1,600
Hardcourt /799 (PSA 10) - $1,000
As you can see, the top 4 cards are all numbered cards and that includes LeBron's auto, 2 of the 10 cards are chrome-based cards (Bowman and Topps) We have a paper-based card with Topps, these are more expensive as they tend to be a tough grade. The last 3 cards are serial #'d, Topps Finest /999 and Hardcourt RC /799, and UD Glass /250.
Now, what did this list tell us? Well contrary to our beliefs auto cards are still king and paper cards tend to be more popular over time, but lastly, that random cards that are serial #'d maintain a ton of value. Chances are if you've been around you've heard of Finest, but how many of you are familiar with UD Glass? What about Hardcourt set? Didn't stop it from being above that $1,000 mark… did it?
These same sets exist today, they have different names, but they do exist. In fact, let's look at a modern player, let's look at Luka's top cards!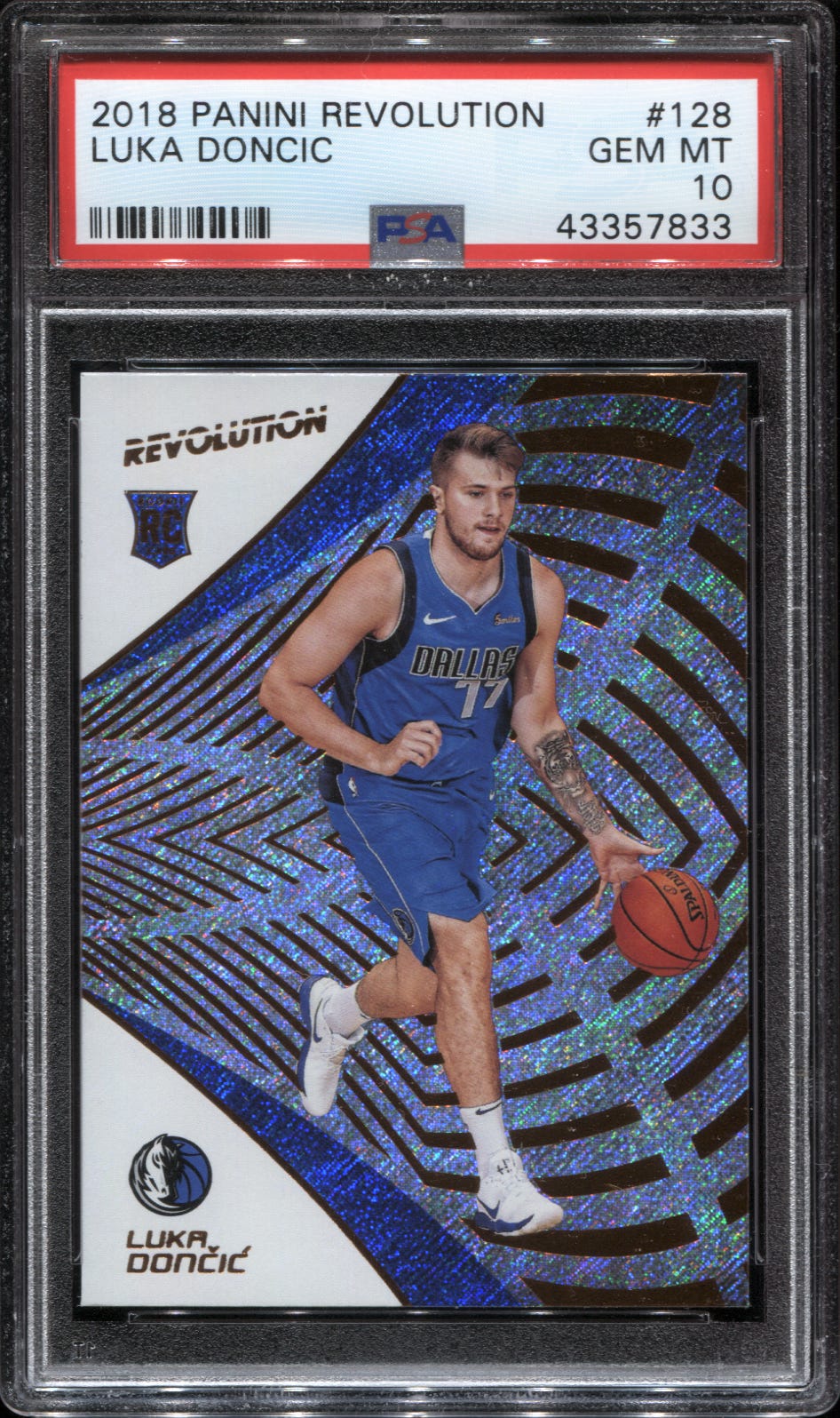 National Treasures /99 - ?
Immaculate /99 - $8,000
Contenders (PSA 10) - $4,500
Impeccable RPA /99 (PSA 10) - $3,500
Contenders Optic (PSA 10) - $3,500
Impeccable Auto /99 (PSA 10) $2,000
Prizm (PSA 10) - $400
Optic (PSA 10) - $300
Select (PSA 10) - $180
Donruss (PSA 10) - $200
So as we can see here the top 10 cards of Luka, look somewhat similar. We have National Treasures which is equivalent to LeBron's Exquisite. We have Impeccable which takes on Ultimate Collection and SP Authentic and then we have a nice assortment of chrome cards, as well as paper with Donruss.
We can also see there are some attractive opportunities, the Impeccable Auto PSA 10 is going for a few dollars more than Luka's Prizm Silver PSA 10, which is crazy when you think about circulation, we can also see that the Impeccable RPA is far less valuable than the Immaculate, it'll be interesting to see how that plays out in the future.
Outside of that we also see, or don't see for that matter, is that there aren't many serial #'d cards. Where's the Hardcourt for Luka? Where's the Topps Pristine? Where's the UD Glass? The cards are out there, we're just not paying attention to them.
The Benefit of Buying Serial #'d Cards
Now you're probably thinking, well why wouldn't I just buy the Prizm? LeBron's Topps Chrome seems to be doing well. This is true, but there are over 9,000 PSA 10 Luka Prizms compared to LeBron's Topps Chrome card. I discovered this in my If cards had market caps blog post.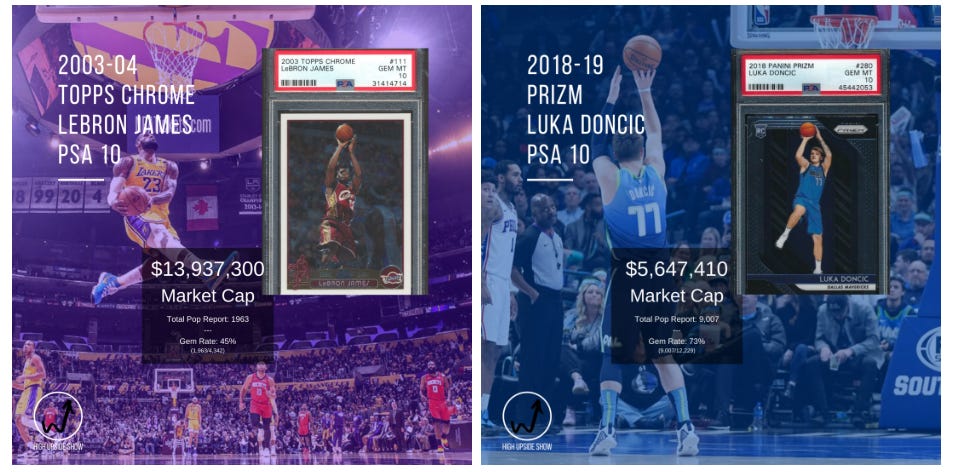 This data pretty much tells us that Luka's card isn't hitting $6,000, not without LeBron moving up of course. Meaning, Luka's play or legacy probably won't be enough to push his card price up, he'll need the entire market to move to reach this point, which is possible, but not likely.
In fact, Luka's Prizm RC (PSA 10) would only have to hit $1,547 to match LeBron's market cap, a 3x from where they are now. This is why I think the serial #'d cards might be a better play long term. They have far more potential than a 3x.
Look at Lukas Impeccable Auto for example, let say that reaches LeBron's SP Authentic type numbers, well that would be a 17x from today's price and it could potentially go for more seeing that Luka's card is /99, while LeBron's is /500.
The card is limited, which gives it intrinsic value, it allows you to say there are only 500 of these produced, and that never changes. It also helps fight fraud. Because your card is stamped, it's forever traceable, if someone trims the card or alters it, you will know, because you'll be able to reference pass images of it. If you're buying the card RAW you can sleep better at night as it's likely not fake with if that stamp is placed. In the long run, I just see them being far more sought after, especially as this new flux of people become more educated.
So what serial #'d cards should you be looking at?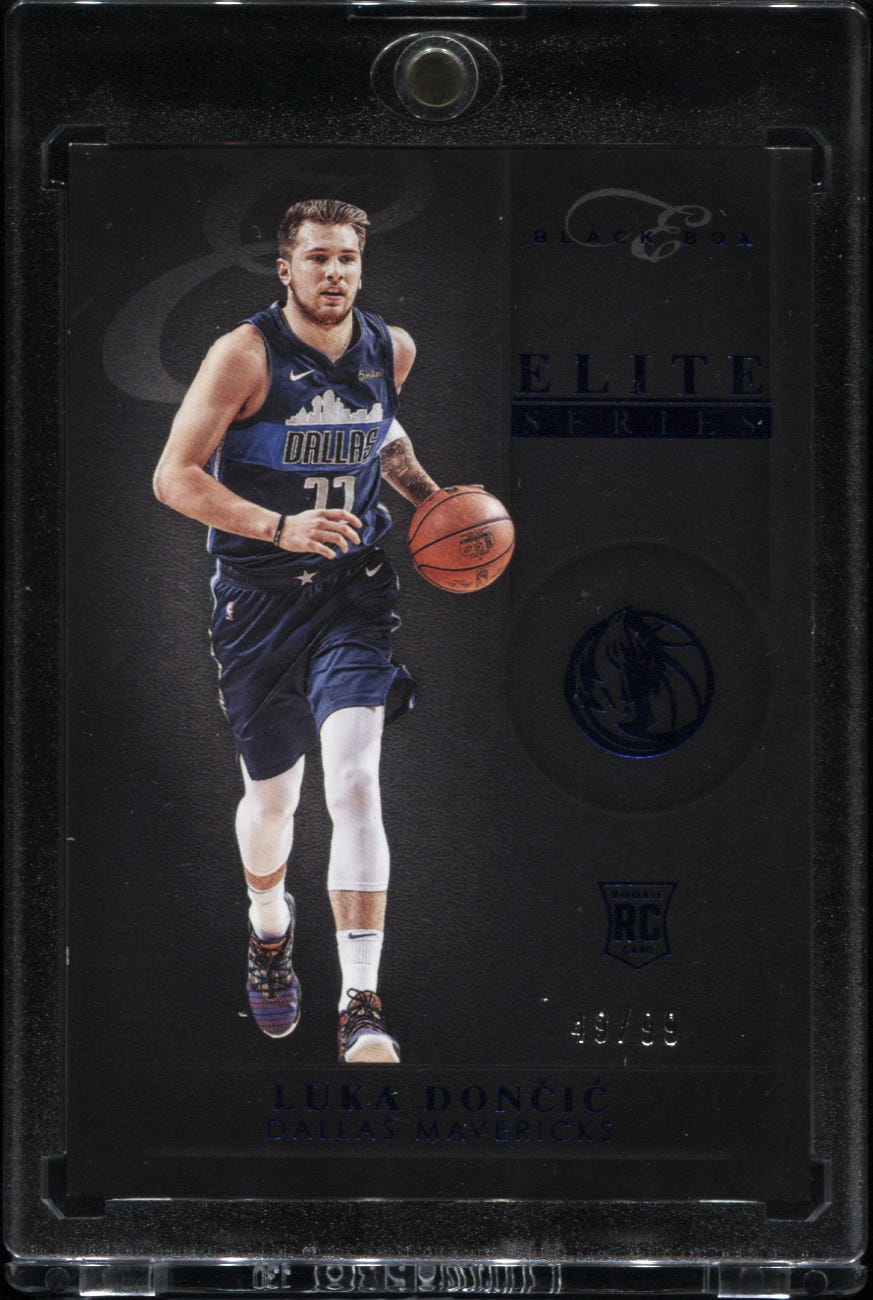 I thought you'd never ask! Below are a few that I looked up that we're available in either PSA 10 or BGS 9.5 slabs. With that being said there are plenty that hasn't been submitted and any true RC card (Spectra, Opulence, Cornerstones for example) are solid bets if Luka pans out.

Optic Choice Red /88 (PSA 10) - $1,600 (Other #'d parallels are fine).
Optic Premium Box /249 (PSA 10) - $1,150
Encased Auto /75 (BGS 9.5) - $650
Select White /149 (PSA 10) - $600
Chronicles Purple /49 (PSA 10) - $300 (Other colored parallels are fine).
Donruss Press Proof Silver /349 (PSA 10) -$300
Dominion Metal /199 (PSA 10) - $150
I picked Optic choice because it's a card #'d to 88 that goes for basically the same price as the Optic Holo. That might be a better investment long term, sure, some people will hate that the card is red, but a true collector will want it.
With that being said any of the colored parallels are fine, I recommend trying to get the one that's closer to the player's jersey, in Luka's case this would be Blue. This goes for Prizm as well as any other set. But yeah, Could you imagine if these cards were LeBron's? Like could you imagine if you could get a LeBron Select White RC /149 for $600? Or a Topps Chrome RC variation #'d to 88. It would be insane.
And these Luka prices, they're all over the place. ? The Donruss Press Proof /349… It's only going for $50-100 more than the base?
This would be the equivalent of LeBron's Topps 1st Edition PSA 10, that's a $3,000 card! In fact, it's rarer, as there are only 15 Luka PSA 10's in circulation compared to LeBron's 89!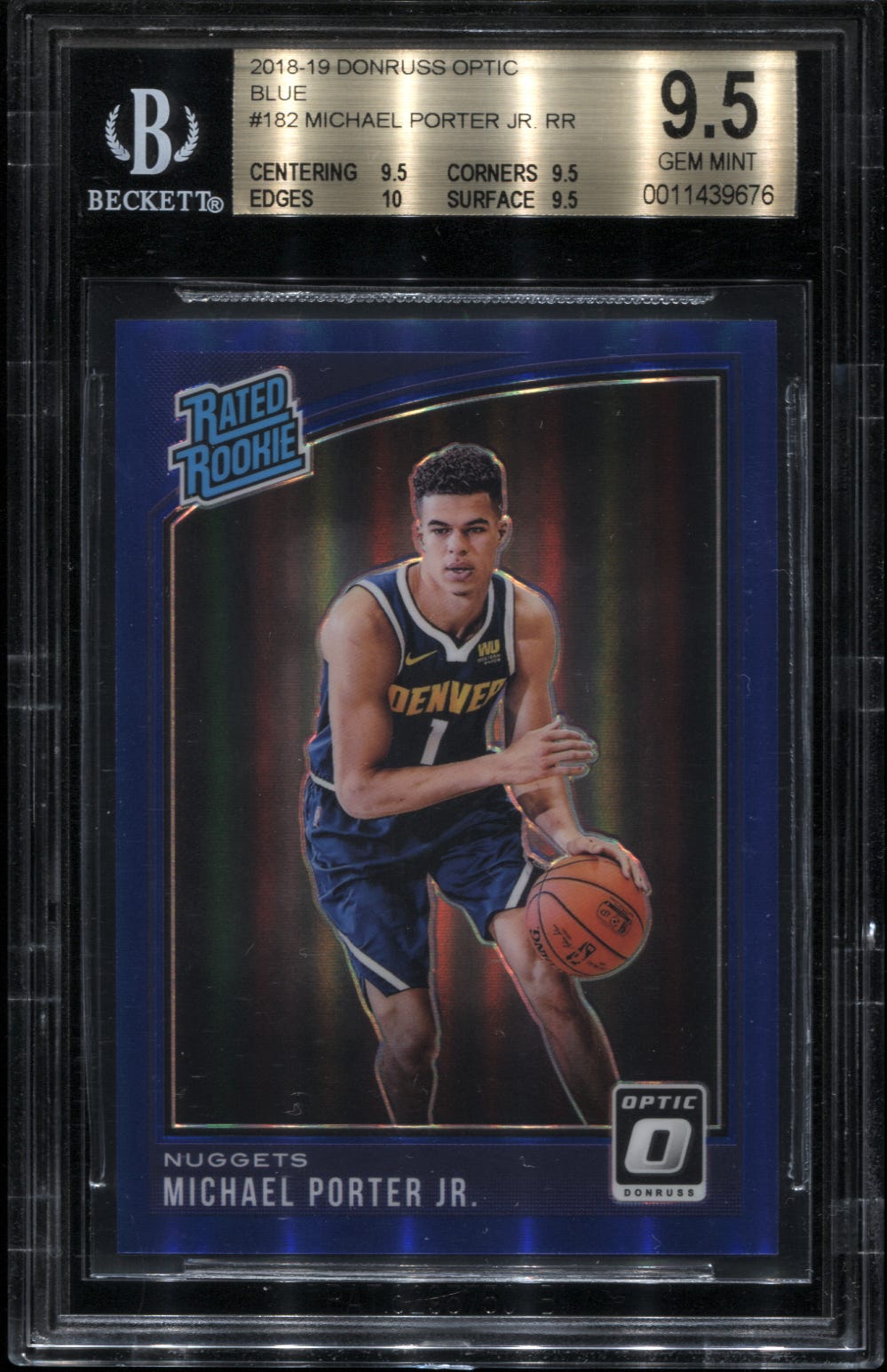 And this is Luka Doncic, what if you believe Trae Young is the future of the NBA or Micahel Porter Jr. These cards can be had at a fraction of the price of Luka. They're so cheap when compared to their Prizm or Prizm Silver!
The Scary Truth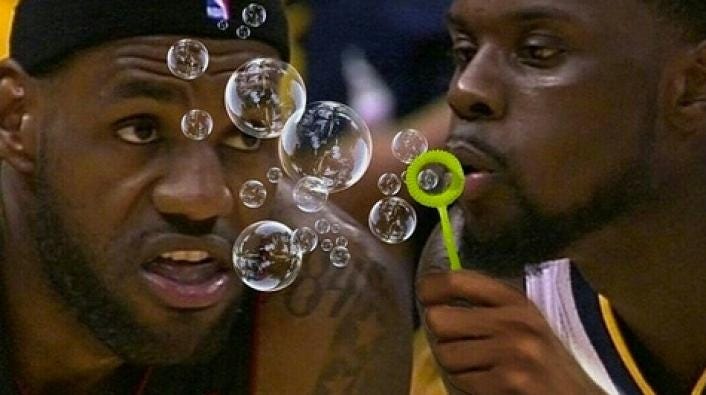 How many of you have recently tried to buy a card on a forum? Or what about a Facebook Group? If you have then you can attest to this, you instantly get flooded with comments and DMs of people trying to sell you that player's PSA 10 Prizm Base or Prizm Silver. Where are the Immaculate cards? Or the Impeccable? They're locked up in player collections, many of them will never be sold again.
At the end of the day, you're likely going to be selling to collectors. They'll want the Prizm, they'll want the Topps Chrome, but not 30 of them. They're collectors, not hoarders. They want to diversify their collections. If a LeBron Topps Chrome pops up, it's cool, but if a LeBron Ultimate Collection Auto pops up, the world watches that auction. We want to own the cards the world will watch!
Now again, this is for long term investors. These types of buys aren't for quick flips or guys like Landry Shamet or Coby White. This is for the Jayson Tatum's of the world, the Zion Williamson's, you know, the guys that have potential to be the face of the league. The type of guy people will want to buy 20 years from now. You want to make sure you lock up some of their #'d cards, as they'll forever be sought after.
Let me know what you guys think about this one. Have any thoughts? Questions? Any sets you're looking at? Either way, I hope you enjoyed it. Happy investing!
---
---
If you want to keep track of what I'm buying and when I'm selling then follow me on Twitter @HighUpsideShow also, check out the podcast, I need everyone's support to help get it noticed!
Disclaimer:
The High Upside Show does not guarantee the accuracy, reliability, or completeness of any information provided on our website or any of our affiliated pages. All information provided is for educational purposes only. The High Upside Show goal isn't to tell you how to spend your money but to simply show you different options within the sports card market.
You are responsible for your own investment decisions. The High Upside Show will not be responsible for any decisions you make, as we highly suggest that you do your own research before making any commitments. If you ignore our advice to do your own research and you chose to buy/sell solely off the information that you see on our site, then you have made a conscious, willing, free, and personal decision to do so.
The High Upside Show is an EPN affiliate program. By clicking eBay links in articles, as well as the newsletter, you acknowledge that The High Upside Show receives a commission on sales from eBay.