Top 10 Kylian Mbappe Rookie Card Investments
This guest post is from Cory Lipinski, thoughts and opinions discussed in this article are those of the author. If you would like to submit a guest post for The High Upside Show then please contact me via the Discord Group Chat.

---
Mbappe is the hottest name in Soccer. But the real question is… have you missed the boat? Before we get into his card prices, let's start off by addressing why Mbappe is a great investment going into the future. Kylian Mbappe is an absolute beast of a player and the best young star in all of soccer. Looking at his stats, he is scoring a point per game over his professional career which includes goals and assists. That puts Mbappe on another level!
He not only scores goals and assists, but he is extremely fast with his speed being a 5/5 star skill set. He has the IT factor, being one of the most exciting players in the world to watch. Mbappe plays for Paris Saint-Germain in France and for the France National Team. As a 21 year old, he has already won the World Cup with France in 2018 in addition to the Ligue 1 Title with PSG this year. So which cards should you invest in for the future? Here are the top 10 rookie cards that I recommend looking into: 
Disclaimer: For this article I will be using PSA pop reports for simplicity, and PSA is #1 currently for prices. However, I do recommend looking into BGS and SGC as well.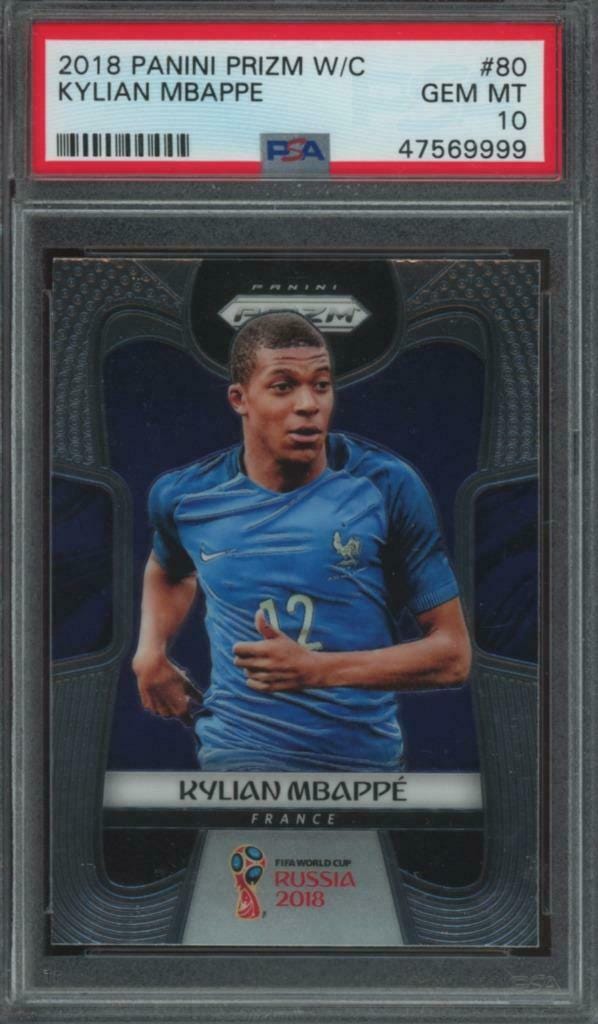 This is THE rookie card to have for Kylian Mbappe according to the market. Prizm World Cup is limited compared to other sports such as basketball and will be scarce moving forward. This is because of how the Prizm World Cup set comes out every 4 years and the print runs have also been lower for soccer cards. It features Mbappe in his France National Team Kit and is from the same year he won the World Cup. (PSA 9s and Raw are both great investments)

PSA Gem Rate = 64.2% (1,170/1,823)
---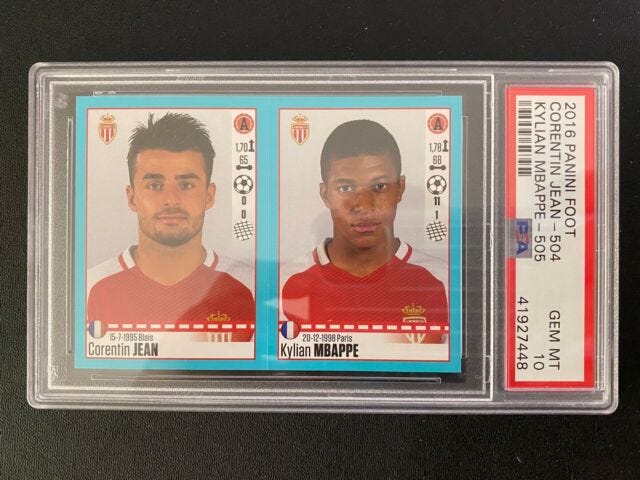 This is THE rookie sticker to get as it is his first sticker printed and technically his first rookie printed. Stickers are more in demand inside the soccer market as most older cards were actually stickers. They are also harder to grade due to the flimsy nature of being a sticker and not a card. (PSA 9s are also worth a look due the card being a  hard grade)

PSA Gem Rate = 22.8% (109/479) 
---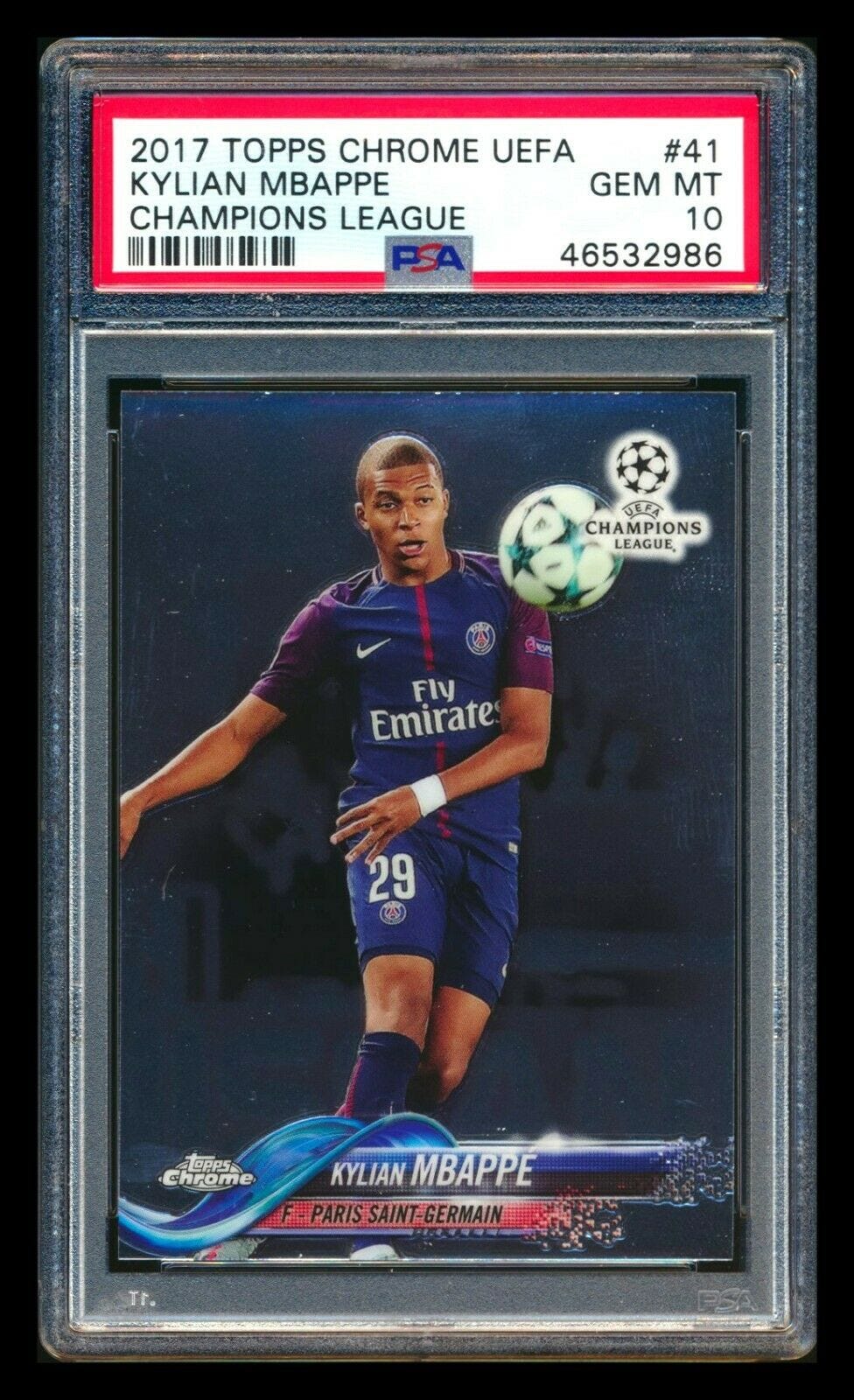 Speaking of cards, this one has a simple and beautiful design and is his next card to follow the Prizm World Cup in price so far. This is also his first card in the PSG kit which could mean big things in the future. (PSA 9s are a good look too)

PSA Gem Rate = 55.7% (157/282)  
---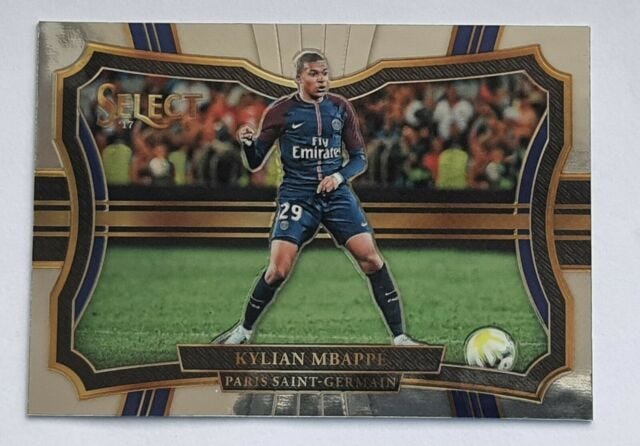 This card is one of his most interesting rookie cards on the market. It has an awesome design as it is the only horizontal card by himself that I cover on this list. This gives the card a unique look similar to the horizontal look of a soccer field. Additionally, this card is rare. There are only 21 of these that have been graded so I recommend seeing if you can pick one up raw as well that is in good condition. (PSA 9s and Raw are great investments) 

PSA Gem Rate = 52.4% (11/21)
---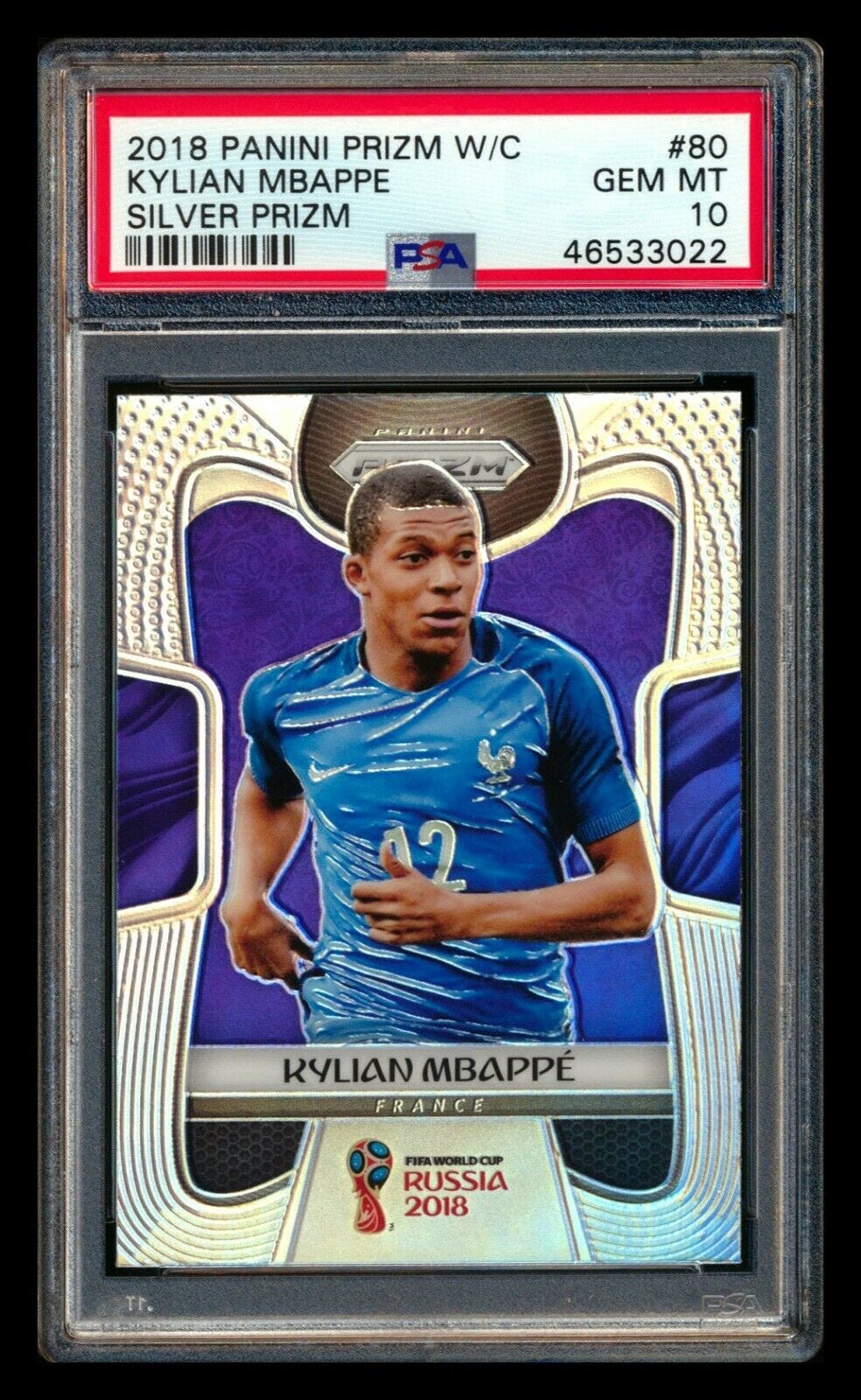 Similar to Prizm basketball, Prizm World Cup has silver versions of the base card. These are extremely rare in soccer due to the low print runs. It is not as liquid as a base PSA 10 and is much more expensive, which is why it is not higher on the list. However, it will rise just the same so do not be worried to purchase one if you believe in Mbappe long term. (PSA 9s and raw have great opportunity) 

PSA Gem Rate = 60.8% (110/181)
---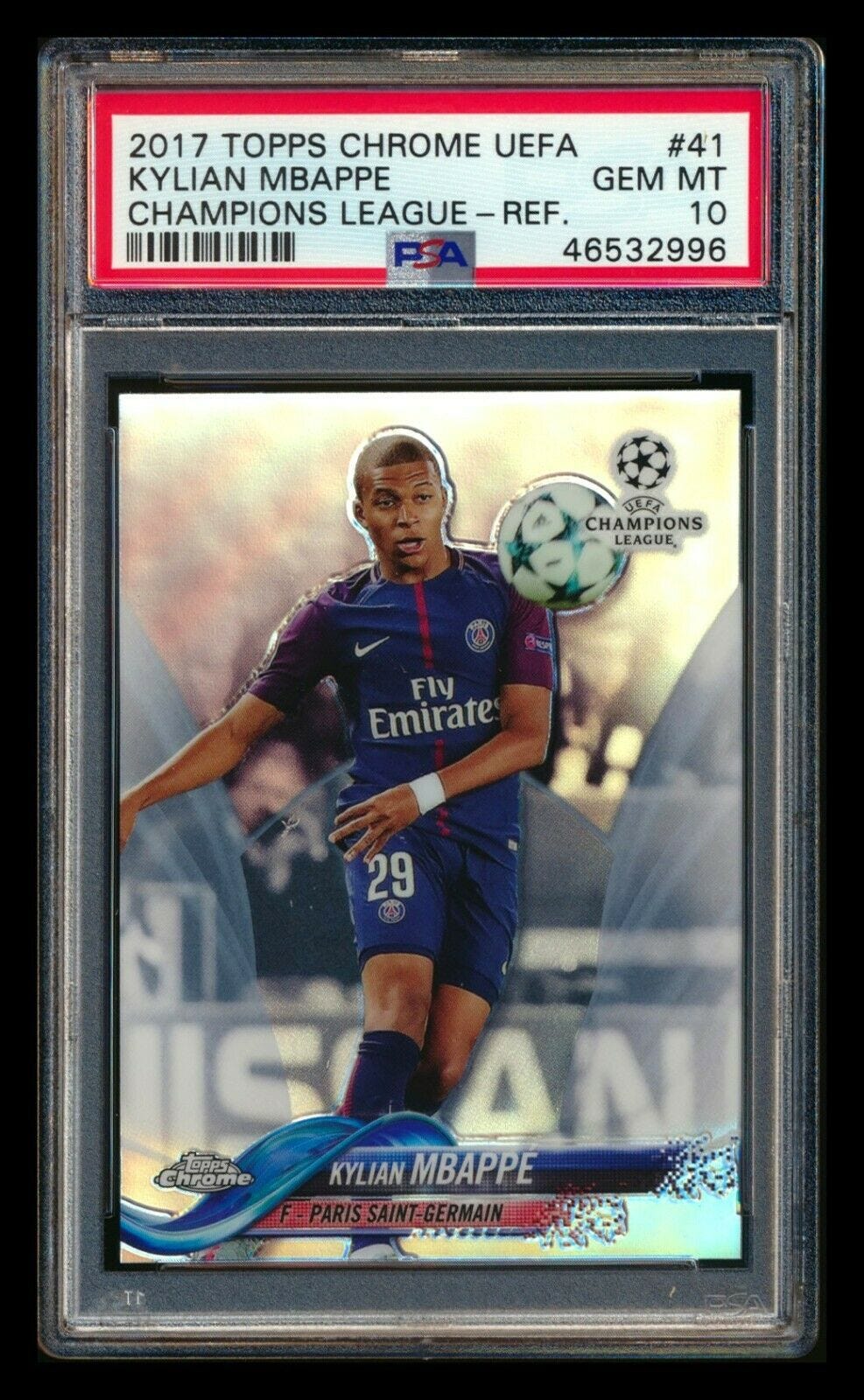 Similar to the 2018 Prizm World Cup RC, this is another rare and expensive Mbappe card. It features Mbappe in his PSG kit for the first time and is a solid high end card to have moving forward.

PSA Gem Rate = 62.3% (48/77)
---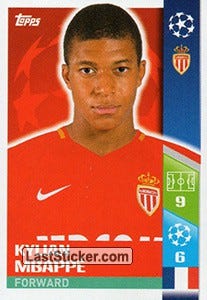 This one is an interesting sticker with great potential. Unfortunately, I could not find the pop reports for it but one PSA 10 sold on August 8th. It features Mbappe with his first club AS Monaco just before he went to PSG. I would look into PSA 10, PSA 9, and raw for this one. 
---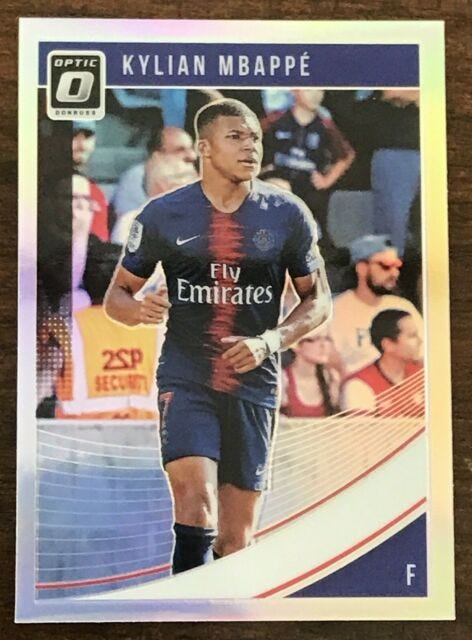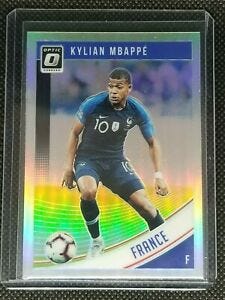 Optic itself in 2018 soccer cards is limited due to it being included in the Donruss set. This means that Optic has a lower print run than Optic football and basketball. 2018 is also the first ever year for the Optic soccer card set. Being a Holo version gives it an extra bump in rarity as well. For 2018 Optic, Mbappe has 2 versions of his base and holo cards. One is in his France kit and one is in his PSG kit. Both are great options. Due to such a limited supply of graded cards, I recommend buying raw and possibly grading.  
---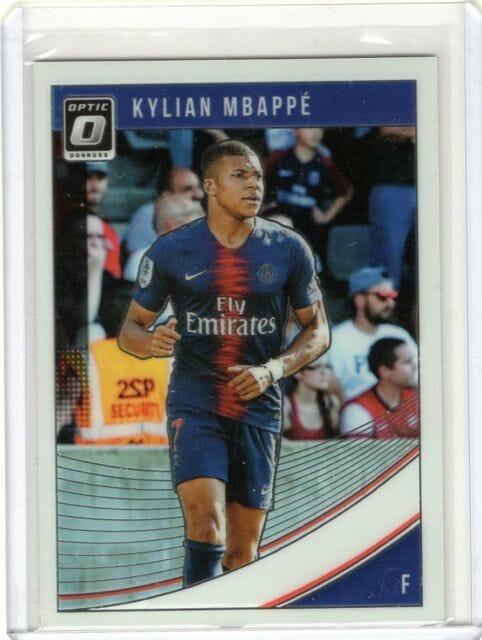 Similar to the 2018 Optic Holo cards, these are limited as well. They are cheaper than the holos and provide a good way to invest on a smaller budget. Again, he has a France kit card and a PSG kit card. Both are great options here as well. You can even go after his base Donruss which is in the same set but not an Optic for an even cheaper option. Due to such a limited supply of graded cards, I recommend buying raw and possibly grading. 
---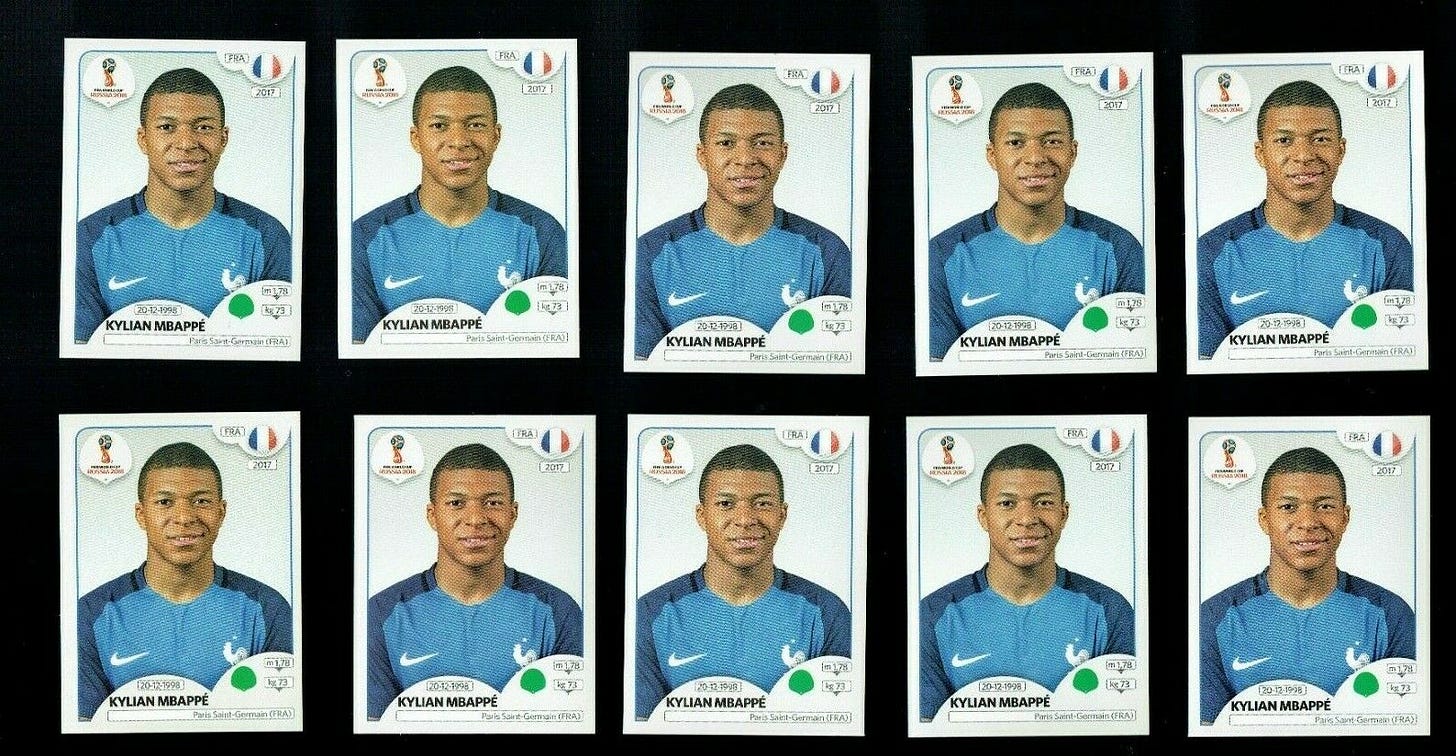 This is his first sticker that features Mbappe in his France National Team kit. If you are a believer in the future of soccer stickers like I am, this is a great one to purchase. It is also from the same year that France won the World Cup with Mbappe playing a key role. There have only been 17 of these graded and only 4 of the gold version graded. Purchasing them raw in good condition is what I recommend here. Just be careful and do not be afraid to ask the seller questions due to stickers being flimsy.  
---
If you want to keep track of what I'm buying and when I'm selling then follow me on Twitter @HighUpsideShow also, check out the podcast, thank you for your continued support.
Disclaimer:
The High Upside Show does not guarantee the accuracy, reliability, or completeness of any information provided on our website or any of our affiliated pages. All information provided is for educational purposes only. The High Upside Show goal isn't to tell you how to spend your money but to simply show you different options within the sports card market.
You are responsible for your own investment decisions. The High Upside Show will not be responsible for any decisions you make, as we highly suggest that you do your own research before making any commitments. If you ignore our advice to do your own research and you chose to buy/sell solely off the information that you see on our site, then you have made a conscious, willing, free, and personal decision to do so.
The High Upside Show is an EPN affiliate program. By clicking eBay links in articles, as well as the newsletter, you acknowledge that The High Upside Show receives a commission on sales from eBay.
* contains an auction that is affiliated with the writer of this newsletter.