The Best Sports Card For $20
This installment of the High Upside Show is free for everyone. I send this email to our investors/collectors daily. If you would also like to receive it every morning, join the other investors today!
---

When I first got into sports cards I remember thinking the only way to make money was to buy the big cards. I wanted the Prizm Silver PSA 10's, I wanted the Optic Holo Autographs and I dreamed of owning top prospects National Treasure's cards… The only problem was that those cards were way out of my price range.
So what did I do instead? I got smart, I figured out that me buying a card at $20 and selling it at $50 is the same as buying a card at $200 and selling it at $500. I focused more on percentages and less on the dollar amount.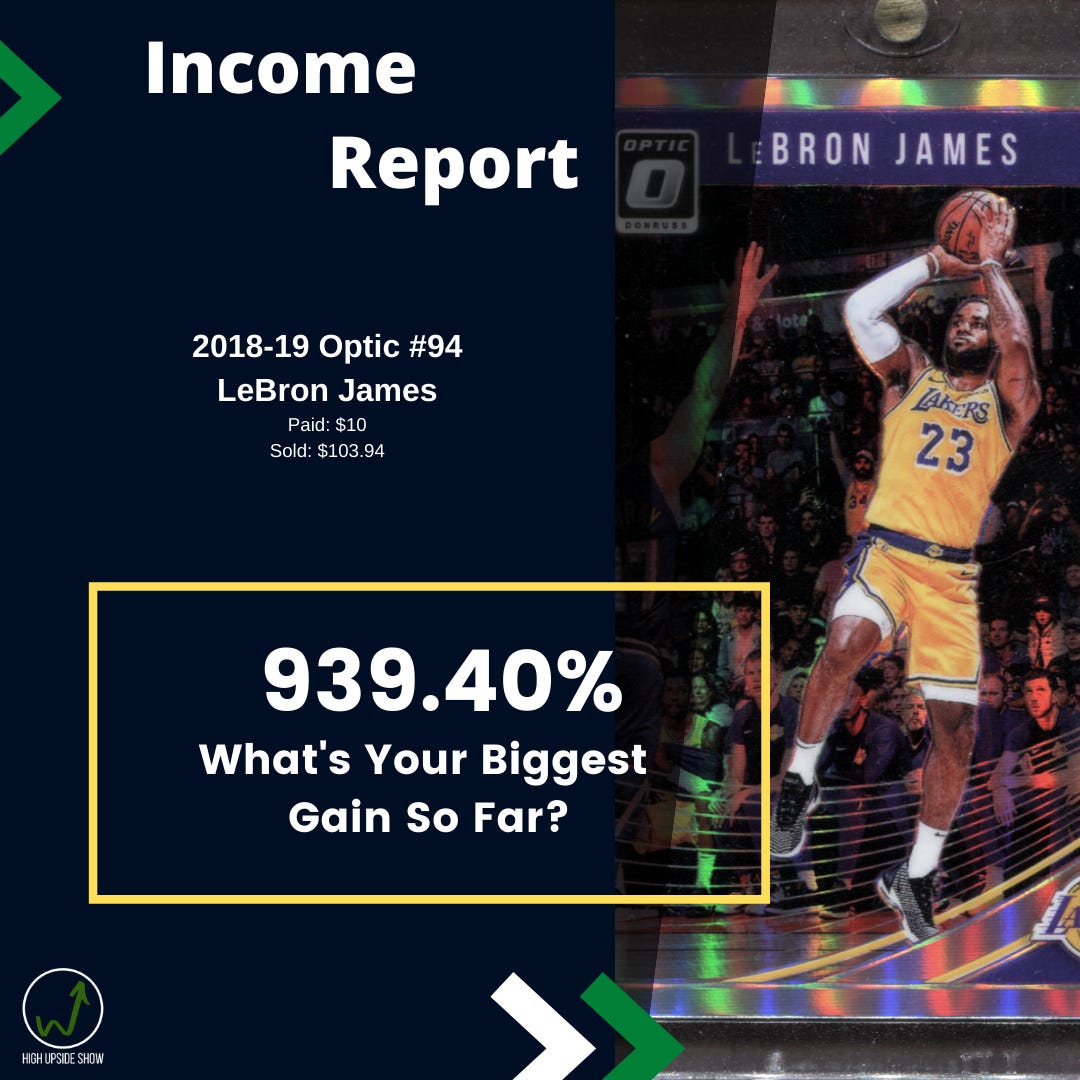 Today, it amazes me how many people will drop $200 on a Prizm Silver but pass up on the Prizm base for $50. If that Prizm Silver goes up to $600 then best believe that Prizm base will be right behind it at $150, either way, you 3x'd your money.
In fact, the Prizm base might be the better buy, because you can dollar cost average your way in our out of your position… I talk more about that in an older blog post.
Related: Prizm Base… A Safer Investment Than Prizm Silver?
So yeah, today I want to go over a card that I think has amazing upside and that card is… Sign up for my premium newsletter to find out!
.
.
.
.
I'm Just kidding, though, you may want to consider it 😉
In all seriousness, that card is
.
.
.
.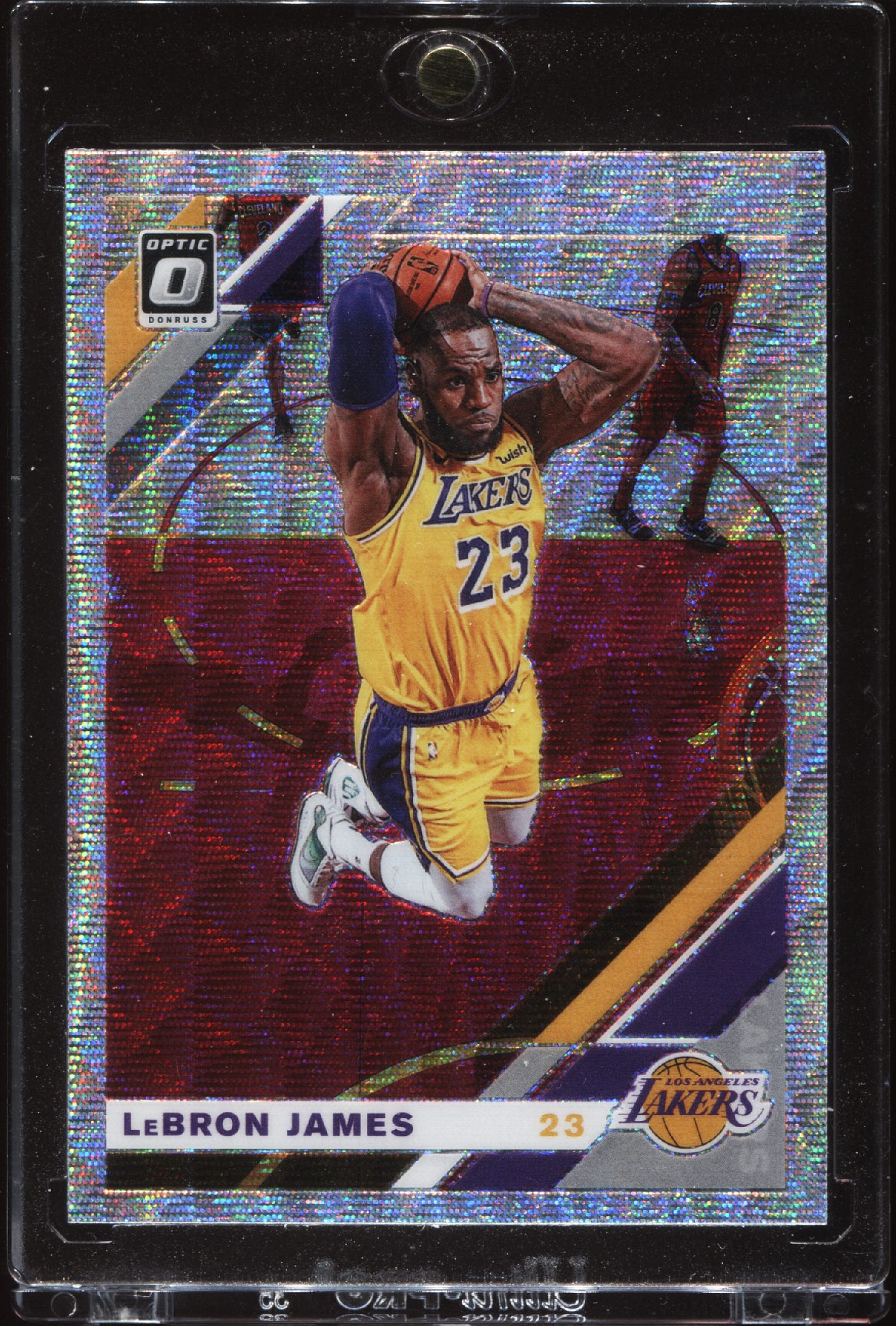 Yep, pretty anticlimactic right? This card may seem basic, being that it was available to pick up in a retail set box, but man, it has to be the best looking card in a while. Donruss Optic is such a beautiful set and they crushed it with this Silver Wave look. It reminds me of 2014-15 Prizm Blue Wave, which is another retail set that was kind of looked over. Now LeBron and Steph Curry base from that set go over $100.
And look, I'm not saying the same will happen for this card, but I mean, look at it. It has everything that a card needs to win. It's Lebron, in his Laker uniform, dunking the ball.
Where do I see this card going? In the short term, I think they'll easily pull in $30-40. Long term we could see $60 or so, these prices are based on LeBron's past Optic cards. For example, we see his 2018-19 Blue Velocity, in the Optic world Blue Velocity is like the low of lows, well that card pulls in about $50. We can also look at the Pink Hyper parallel, another, not so popular card and that pulls in about $50-60. This tells me that $50-60 seems to be the base price for LeBron's parallels, so I'm betting on that.
Another factor to look at is the Optic Fanatics rookie cards. Currently, the Fanatics parallel goes for about a 3x less than the holo parallel. For example, you can pick up his 2019-20 Optic Fanatics parallel for about $18 and his 2019-20 Optic Holo Coby White RC for about $60, that's about a 2.3x. The same can be seen with Ja Morant, Optic Fanatics goes for $60, while his Optic Holo goes for about $250, this is about a 3.2x in terms of price.
Yet, LeBron's Optic Fanatics goes for $20 and his Holo goes for $180. I know comparing rookie cards to vet cards isn't an accurate metric, but a 9x is a huge number, especially if the rookies are trending at close to or around 3-4x.
Don't like this pick? Check out 4 other cards that I think are good buys at under $20.
---
If you want to keep track of what I'm buying and when I'm selling then follow me on Twitter @HighUpsideShow also, check out the podcast, I need everyone's support to help get it noticed!
This newsletter is for education purposes only. The High Upside Show is by no means advising you to purchase any of these cards. I am not a financial advisor. Please do your own research before you make any purchase. The High Upside show is an EPN affiliate. All data collected from this email is for the company use only, by receiving this email you have acknowledged and agreed to these terms.