I Invested $1,000 into Basketball Cards Because Gary Vee Told Me To… Here's What I Bought!
This installment of the High Upside Show is free for everyone. If you would receive an email like this every morning, as well as gain access to my investment journal then check out the premium newsletter today!

---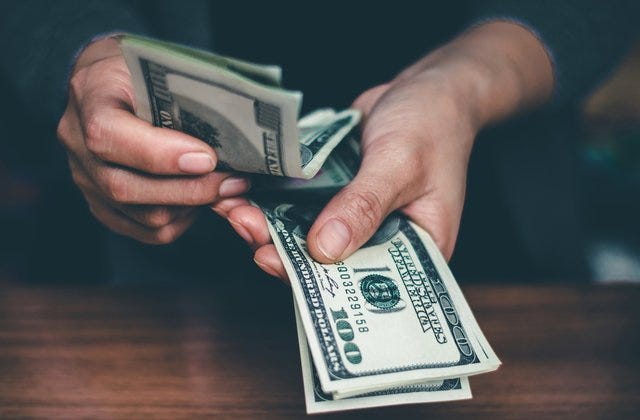 I'm a big fan of Gary Vee, chances are if you're an aspiring entrepreneur and you have an internet connection you are too. Every time he talks I feel a strong connection to him, not because he's educating me on something new, but because he's confirming the thoughts that I already have.
I mean I have a story that correlates to everything he talks about. We both hustled as kids, he sold baseball cards, I sold CDs. He had a lemonade stand, I hustled candy out of my locker. We both have a unique bond with our mothers, she didn't always understand me growing up, but she trusted me and that's a huge part of who I am today. I could go on and on, so many comparisons, I've watched just about every one of his videos and I resonated with them all. However, there's one that stands above the rest.
DailyVee, episode 549. It starts at about the 1-minute mark, there Gary talks about the potential of sports cards. I won't spoil the episode, but I'll showcase it down below for those of you who care.
Okay, well I guess I have to spoil it in order for this post to make sense but don't say I didn't give you the chance to watch it for yourself. For those of you who didn't watch it, what he essentially said was that sports cards, today, might be the most risk-free investment one could make in the next 24 months.
Now obviously, you have to take this type of statement with a grain of salt. No investment is riskless, if you buy a popular player there's a ton of things that can go wrong, I mean look what happened to Carmelo Anthony, Chris Bosh, Derrick Rose, Monta Ellis, Andrew Wiggins, Jabari Parker… I think you get the point.
Players can get injured, be traded, released, some may get pregnant (sorry D.J. Cooper), but for the most part, you can gauge who is going to be who in the league after a year or two.
There's no doubt in my mind that Luka Doncic is going to be a star, same can be said about Trae Young, hell everyone on the Hawks has potential, they're going to be the Golden State of the East. I can easily gauge that the Sacramento Kings have a young core and could be a potential contender in the next few years or that the 76ers will be a threat in the East for the next decade if they can keep that team together. When you watch the sport and look at the players you're able to put a lot of things together, the odds are easily in your favor.
With all that being said I'm no newb to basketball cards. I know it isn't as simple as going on eBay, picking up a Luka Doncic rookie card and storing it until a big payday comes. In order to be active in this market, you have to really know it.
You have to understand that a Prizm Silver RC card is going to be worth more than a Select Silver. You have to know that a card #'d to /10 doesn't make it more valuable than a card #'d /99. There are rules and if you don't know them you will get burned… If you want to know about these said rules then clap this post and I'll write a follow up one on everything I know.
Related: Prizm or National Treasures: What's The Best Rookie Card To Invest In?
So by now, you've probably figured out that I didn't invest this money of mine because Gary simply told me too, but I would be lying if I said he didn't re-spark this interest of mine.
I've always been a fan of scouting players and hit rate on who's going to be good and who isn't has been pretty high. With that being said, I didn't 100% go for the easy money here. I gambled, but I also hedged… Here's who I bought.
Bruno Caboclo | Memphis Grizzlies | Total Investment $195.30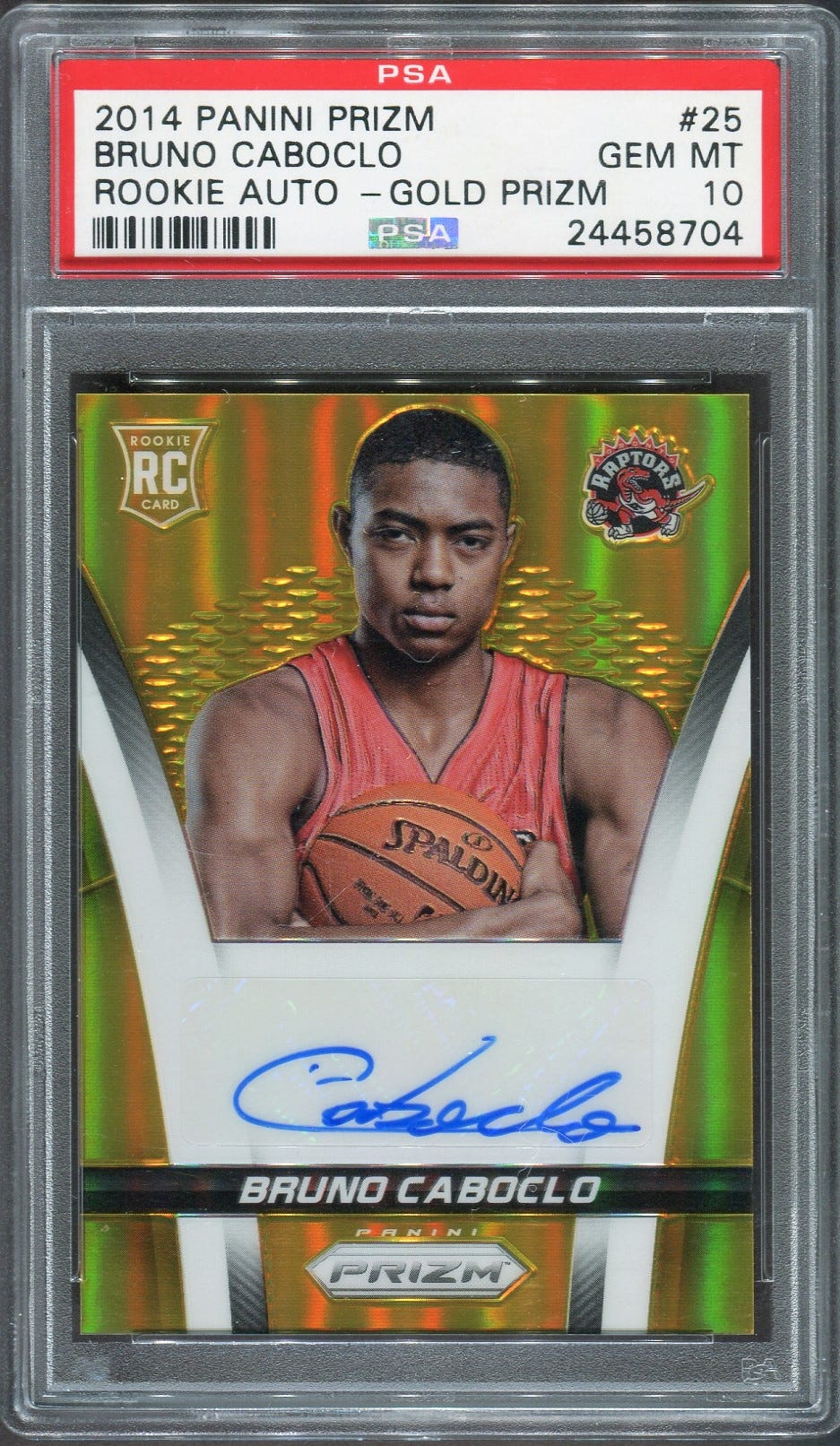 - Bruno is a high risk, high reward player. He's been in the league 6 full seasons and he hasn't really done much. He's tall, lanky and RAW, but I was blown away with how well he played in Memphis. It was just 34 games, but they were a special 34. I first saw him play against my home team, the Detroit Pistons, he lit it up, 3 after 3 after 3. I kept thinking who is this guy and eventually, I just stopped watching the game and Google'd him.
He's tall, lean and he's from France. His profile reminds me of Giannis, but his game reminds me of a poor mans Kevin Durant. He can literally do it all, both offensively and defensively. The only thing that's stopping him from being great is a chance to play. Bruno is a high-risk player because he's buried on the bench and, to be honest, he has some rather good rotation players in front of him. However, if he can put it all together, the return on my investment would be insane.
Did I mention Bruno was from France? The NBA is quickly becoming the biggest international sport in the world. It's so diverse and when an international player takes on the spotlight, well, it becomes a big deal. Look at Giannis, look at Nikola Jokic and let's not forget Pascal Siakam. I strongly believe that if given the chance, Bruno could be just as good as those guys.
My total investment in Caboclo right now is $195.30, that's for 13 cards. If he gets the chance that I think he will then one card alone could easily allow me to break even.
John Collins | Atlanta Hawks | Total Investment: $281.11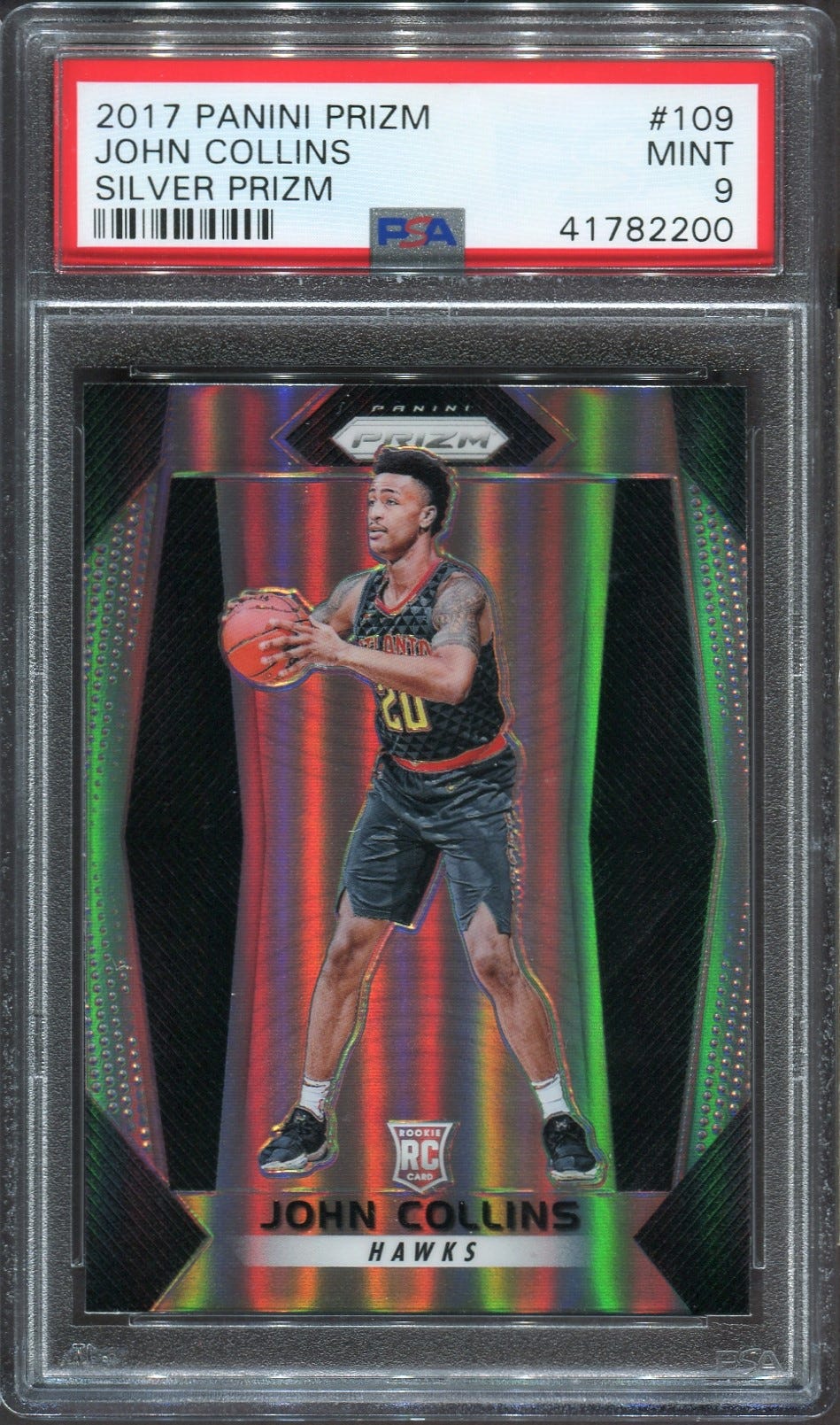 - John Collins is a more known player, he has no one in front of him, I'd even go as far as saying that he's the most underrated forwards in the league! I'd say a big part of that was attributed to how poor the Atlanta Hawks did during the season, yes they were fun to watch, some even touted them as the Golden State Warriors of the East (okay… I said this earlier, but it's true, just look at their roster), but they just couldn't win any games. However, I think they'll get a lot more TV time next year… here's why.
Trae Young is a beast, he's only been in the league for a year and he's already one of the most exciting players to watch. The league will get behind that. He has the jump shot of Steph Curry and the passing ability of Steve Nash. Speaking of Steve Nash, John Collins is a basically Amare Stoudamire with a jump shot… A really good jump shot. He shot 34% from 3 in both his rookie and sophomore season, on top of that he averaged close to 10 RPB and has the potential to average well over a block per game… Did I mention he was a freak athlete?
I won't continue to sell you on John Collins, but with the Hawk's young core and the chance to be a potential threat in the East I figured he was a no brainer. With Collins I kept the investment simple, I only invested in his Prizm Silver rookies. I have a total of 7 of them, 6 are PSA 9 and one is a BGS 9.5. If all works out, I think the PSA 9's could sell for somewhere around $90 while the BGS 9.5 should reach $180–200. That's a total of $720. Not a bad return for a small investment of $218. Hopefully, he pans out.
D'Angelo Russell | Golden State Warriors | Total Investment: $473.50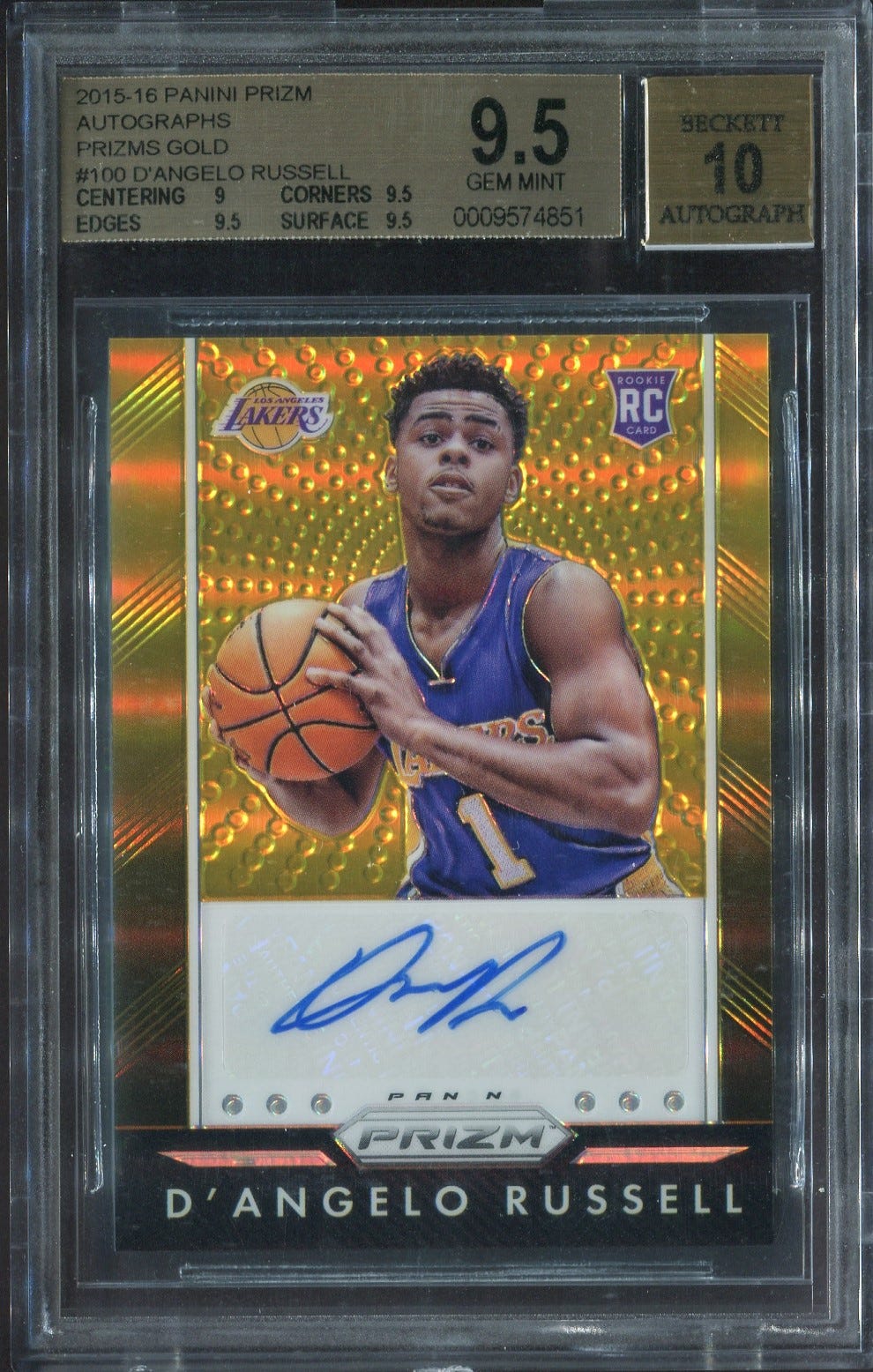 - I want to go on record here and say that I picked my D'Angelo Russell cards up right before he was traded to the Golden State Warrior. I didn't know which team he was going to, but once I heard that the Nets were bringing in Kyrie I knew he was out of there.
In all honesty, I was thinking he'd probably go back to LA, but Golden State… Golden State might be a better fit, at least in terms of my investment. As soon as the trade was announced D'Angelo's cards jumped in value. The Prizm Silver RC I was once able to grab for $90 was going for over $200. I could have sold then, but I decided to wait it out for the postseason, might be a big mistake, but it could pay off huge!
Klay Thompson is out for the most of the season and this really gives D'Angelo a chance to shine, not just as a 3 point shooter but as a PG. On Golden State, he'll be able to showcase all of his moves and Steph could potentially become the best 1–2 combo in the league.
I only have 3 D'Angelo Russell cards, but I have one that has huge potential. If all pans out and he has a hot streak it could sell north of $1,000, which would get my entire investment back!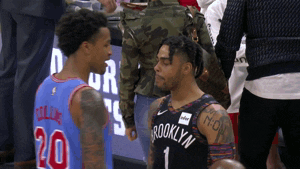 So there you have it! That's what I picked up during the offseason. Not quite a $1,000, but pretty close at… I might invest the last $50 into another rare Bruno Caboclo card or maybe pick up 2 more John Collin Silver rookies, but for the most part, I'm pretty happy with what I have. If you want to see each card I purchased, then check out the links to my Flickr below. I'll be sure to do a follow-up post each quarter of the season to let you know how my investments are doing. Also if you have any questions on sports cards then comment those, perhaps I'll answer them in a future Medium post. I want to thank Gary again for getting me back into the hobby, some of my best childhood memories involve sports cards.
---
If you want to keep track of what I'm buying and when I'm selling then follow me on Twitter @HighUpsideShow also, check out the podcast, I need everyone's support to help get it noticed!
Disclaimer:
The High Upside Show does not guarantee the accuracy, reliability, or completeness of any information provided on our website or any of our affiliated pages. All information provided is for educational purposes only. The High Upside Show goal isn't to tell you how to spend your money but to simply show you different options within the sports card market.
You are responsible for your own investment decisions. The High Upside Show will not be responsible for any decisions you make, as we highly suggest that you do your own research before making any commitments. If you ignore our advice to do your own research and you chose to buy/sell solely off the information that you see on our site, then you have made a conscious, willing, free, and personal decision to do so.
The High Upside Show is an EPN affiliate program. By clicking eBay links in articles, as well as the newsletter, you acknowledge that The High Upside Show receives a commission on sales from eBay.